Saint-Christol - Holiday rentals Provence
Saint-Christol, village in the Vaucluse, the capital of Plateau d'Albion
J'inscris ma location sur Luberonweb
Holiday rentals, gites, guest rooms, hotels, campgrounds in Saint-Christol
Tourism information on Saint-Christol
See the Luberon Map

See tourist information of this village
---
No accommodation has been found in this village ! We propose you offers near by :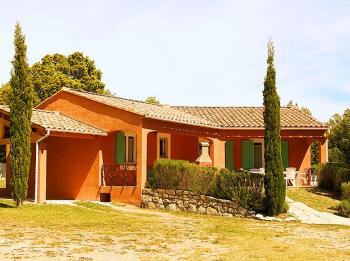 Holiday villa with swimming pool in the ocher of the Luberon
Holiday house pool - Rustrel - La Villa les Ocres - Luberon Provence
from 580 € to 1.150 € per week (depend. season)
for 5/6 person(s)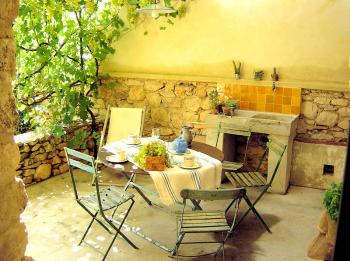 Charming house in the light of the Luberon
Charming Holiday house - Rustrel - La Figuière-des-Viaux - Luberon Provence
from 750 € to 950 € per week (depend. season)
for 4/5 person(s)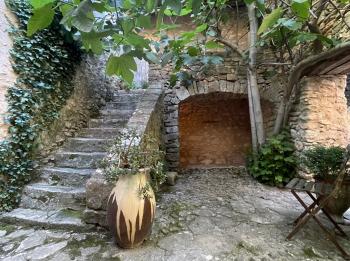 Small charming cottage in the Luberon for 2/3 people
Charming cottage - Rustrel - La Petite Figuière - Luberon Provence
from 450 € to 700 € per week (depend. season)
for 2/3 person(s)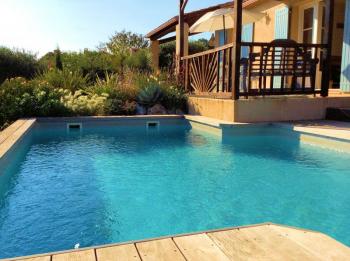 Holiday house with pool for 5 people in Rustrel in the Luberon
Holiday rental pool - Rustrel - La Maison Bleue - Luberon Provence
from 1.700 € to 1.900 € per week (depend. season)
for 4/5 person(s)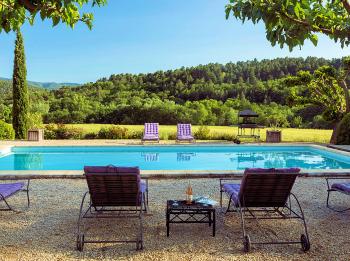 Provencal Farmhouse with pool for 10 people in Rustrel in the Luberon
Provencal Farmhouse pool - Rustrel - Mas du grand Saint Julien - Luberon Provence
from 800 € to 3.300 € per week (depend. season)
for 9/12 person(s)
Check out our Top 20 Holiday rentals, Cottages, Hotels, Inns, Camping
Saint-Christol, Village on the shelf of Albion between Ventoux and Luberon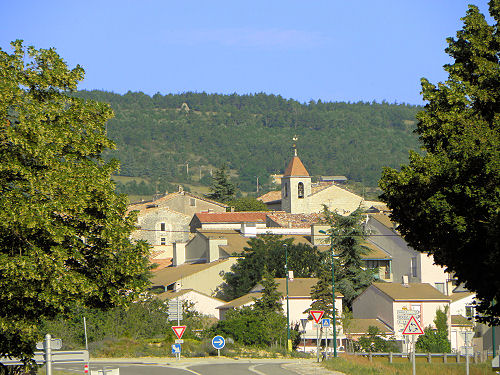 © Luberonweb
Saint Christol is a small village that deserves a visit. Saint Christol is located on the Plateau d'Albion between Luberon and Ventoux, on the road from Rustrel to Sault.
Village d'environ 1.200 habitants
Historique :
Mentionné "Sanctus Christoforus de Albiono" au 12ème siècle, du nom de la tribu des "Albioeci".
Fief des d'Agoult-Sault.
Territoire défriché par les bénédictins de Villeneuve-lès-Avignon qui, après une période de prospérité, fut ravagé par la peste, puis dévasté par les bandes de Routiers, renouveau au 16ème siècle avec des colons qui remirent en valeur le terroir et créèrent le village actuel devenu capitale du pays d'Albion.
Ancienne base de missiles du plateau d'Albion, premier groupement de missiles stratégiques implanté dans des silos.
Présentation :
Saint-Christol, station climatique, est la "capitale" du plateau d'Albion.
Site extraordinaire du plateau d'Albion.
Nombreux avens (du Cervi, de l'Ase, du Trou Souffleur, de la Resclave, de Maulicat, d'Autran, trou Flammarin, de Chavon, de Barthée, ...
Belles vues sur le mont Ventoux et la montagne de Lure.
Proximité du Luberon et du Ventoux.
Passage du GR4.
Nombreuses randonnées et promenades.
Spéléologie.
Acrobranches.
Sentier botanique.
Situation géographique :
Saint-Christol est situé au coeur du plateau d'Albion, à 856 mètres d'altitude, au Nord des Monts du Vaucluse et du Luberon, au centre d'un triangle formé par les communes de Sault, Simiane-la-Rotonde et Saint-Saturnin-les-Apt. Une destination de vacances pour les amoureux de la randonnée et/ou de la spéléologie.
Curiosités touristiques :
Ancien château du 14ème/17ème siècle aux épaisses murailles, tour (pigeonnier).
Presbytère dans une partie de l'ancien couvent.
Lavoir.
Chapelle Notre-Dame de L'Amaron.
Eglise paroissiale Notre-Dame-et-Saint-Christophe, ancienne abbatiale romane bénédictine du 12ème siècle : nef romane à trois travées, une autre nef du 17ème voûtée, raccordée à la nef primitive, l'abside en cul-de-four, pentagonale à l'extérieur, est supportée par huit colonnettes cannelées ou finement ciselées représentant aigles ou monstres barbus, chapiteau et décoration sculptée exceptionnelle de richesse et de qualité (bestiaire fantastique), belle corniche maître-autel du 18ème siècle, autel roman restauré, statues du 19ème, "Gloire" du 19ème (une des plus belles du département) avec une lanterne en pierre ajourée.
Musée :
Musée Marceau Constantin, regroupant les œuvres du peintre et plasticien Marceau Constantin, natif de Saint-Christol.
Marchés, fêtes, foires et Festivals :
Marché le jeudi.
Foire le 1er dimanche d'août.
Fête patronale le dernier dimanche de juillet.
Discover the best holiday accommodation in Provence !