Maubec - Holiday rental in the Luberon
Maubec, a small village at the foot of the Luberon near Cavaillon
J'inscris ma location sur Luberonweb
Holiday rentals, gites, guest rooms, hotels, campgrounds in Maubec
Tourism information on Maubec
See the Luberon Map

See tourist information of this village
---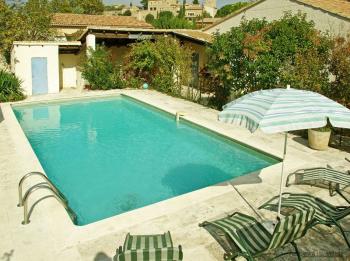 Holiday house with pool for 6 persons in Maubec in the luberon
Holiday rental pool - Maubec - Le Tournesol - Luberon Provence
from 700 € to 1.600 € per week (depend. season)
for 5/6 person(s)
We propose you also nearby :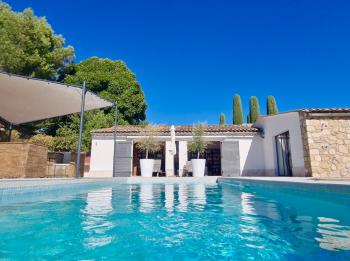 HHouse maison bertuli LES OLIVIERS 5 **** Architecture Design Heated pool in the Luberon
Former silk pool - Oppede - Les Oliviers - Luberon Provence
from 225 € to 265 € per day (depend. season)
for 3/4 person(s)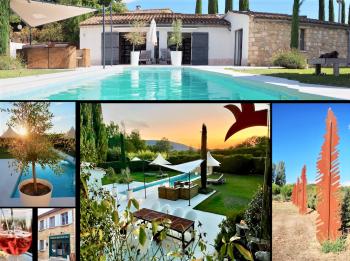 Provencal farmhouse LES CERISIERS maison bertuli for 2 people classified 5 *****
Holiday rental pool - Oppede - Les Cerisiers - Luberon Provence
from 210 € to 255 € per day (depend. season)
for 2/3 person(s)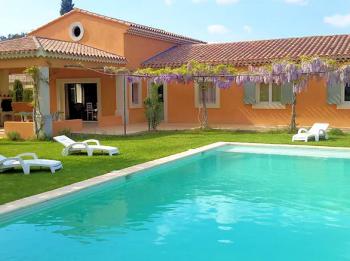 Holiday villa with pool for 8 persons at the foot of the Luberon
Holiday villa pool - Les-Taillades - Sous les oliviers - Luberon Provence
from 2.200 € to 3.000 € per week (depend. season)
for 6/9 person(s)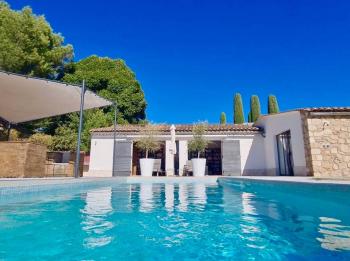 House maison LA SUITE 5 ***** Heated Swimming Pool, AIR CONDITIONING
Loft pool - Oppede - La Suite - Luberon Provence
from 225 € to 269 € per day (depend. season)
for 2/3 person(s)
Check out our Top 20 Holiday rentals, Cottages, Hotels, Inns, Camping
Maubec, charming little village at the foot of the Luberon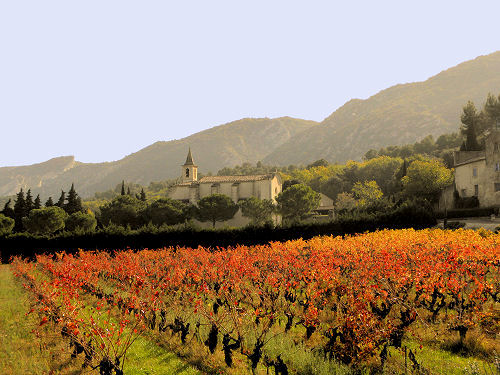 © Luberonweb
Maubec is beautiful little village located at 9 km from Cavaillon and the A7 motorway. An ideal location for exploring the Luberon and the Alpilles.
Village d'environ 1.900 habitants
Historique :
Cité "Malbec" au 12ème siècle.
Au 13ème, fief d'abord partagé entre divers co-seigneurs dont le plus anciennement connu est Bernard de Claret (1251), puis à la fin 15ème, seigneurie unique des Brancas jusqu'à la Révolution.
Présentation :
Maubec village au pied du Luberon, bénéficie d'une bonne situation géographique pour visiter le Luberon (axe Cavaillon - Gordes) et la Provence (autoroute A7 Aix-en-Provence - Avignon).
Maubec est un très beau village adossé au Luberon.
Nombreux sentiers de randonnée dans le Parc Naturel du Luberon.
Situation géographique :
Maubec est situé entre le Luberon et la plaine alluviale du Cavalon, à proximité de la petite ville de Cavaillon, et entre les villages de Robion et d'Oppède.
Curiosités touristiques :
Sépulture néolithique à la grotte Maillet.
Vestiges des importantes fortifications du vieux bourg abandonné.
Château restauré.
Beffroi de l'Horloge du 18ème.
Eglise paroissiale Saint-Maurice de 1753, intéressante construction d'aspect baroque.
Croix de mission sur l'esplanade.
Oratoire près de la ferme Saint-Baudile.
Marchés, fêtes, foires et Festivals :
Marché paysan le dimanche.
Fête le dernier dimanche de juillet (établie depuis 1620).
Feu de la Saint Jean, le 24 juin.
Mardi-Gras : tradition du Carementran où l'on brûle l'effigie de Carnaval.
Centre culturel La Gare de Coustellet, musiques contemporaines et manifestations culturelles toute l'année.
Discover the best holiday accommodation in Provence !