Vitrolles-en-Luberon - Holiday rental Luberon
Vitrolles-en-Luberon, village in the Luberon, overlooking the valley of Aigues and the country of Aix-en-Provence
J'inscris ma location sur Luberonweb
Holiday rentals, gites, guest rooms, hotels, campgrounds in Vitrolles-en-Luberon
Tourism information on Vitrolles-en-Luberon
See the Luberon Map

See tourist information of this village
---
No accommodation has been found in this village ! We propose you offers near by :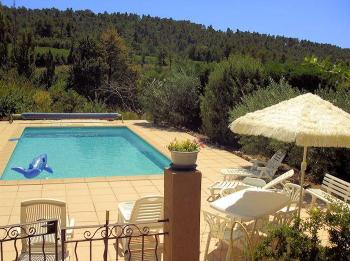 Hire with swimming pool in the southern Luberon
Vacation rental pool - La Bastide des Jourdans - Villa Longues Terres - Luberon Provence
from 1.300 € to 1.500 € per week (depend. season)
for 5/6 person(s)
Check out our Top 20 Holiday rentals, Cottages, Hotels, Inns, Camping
Vitrolles-en-Luberon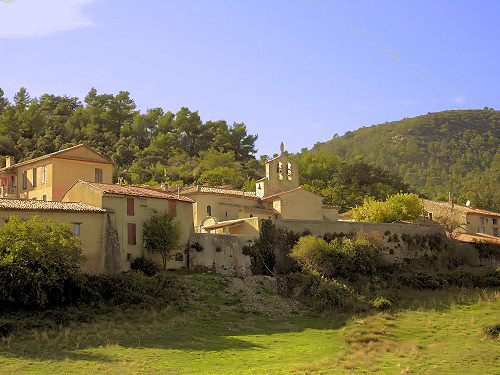 © Luberonweb
Ville d'environ 200 habitants
Historique :
Mentionné "Vitrola" (verrerie) en 1251.
Fief des Forcalquier, puis des Brancas au 16ème.
Le village, déserté à la suite des destructions du 14ème, fut repeuplé par acte d'habitation (1504) des Brancas.
En 1783, Jean d'Ailhaud fit l'acquisition de la seigneurie et du château.
Le village se nomme Vitroles-d'Aigues en 1793, puis devient Vitroles en 1801 pour finalement se renommer Vitrolles-en-Luberon à partir du 11 août 1996 (décret du 7 août 1996).
Présentation :
Vitrolles-en-Luberon est un beau petit village, paisible, sur le versant sud du massif du Grand Luberon, entouré d'un cirque montagneux.
Les chemins de grande randonnée GR5, GR9 et GR97 s'y croisent.
Panorama sur le Pays d'Aigues.
Proximité de l'étang de la Bonde.
Situation géographique :
Vitrolles-en-Luberon, est un magnifique village, situé dans le Luberon, en pleine nature. On accède à Céreste par la superbe petite route D33, depuis La-Bastide-des-Jourdans, par la départementale 216. Vitrolles-en-Luberon est une destination de vacances réservée aux amoureux de la nature, du calme et des randonnées.
Curiosités touristiques :
Restes du Castellas détruit au 14ème (rares vestiges).
Château du Gran-Pré du 17ème.
Beau pigeonnier à casquette.
Pilastres et ruines Renaissance.
Tour de moulin tronquée.
Eglise paroissiale d'origine romane.
Oratoire Sainte-Philomène, calvaire Saint-Siméon.
Marchés, fêtes, foires et Festivals :