Villemus - Holiday rental Provence
Villemus, small village of the Luberon, in the Alpes-de-Haute-Provence
J'inscris ma location sur Luberonweb
Holiday rentals, gites, guest rooms, hotels, campgrounds in Villemus
Tourism information on Villemus
See the Luberon Map

See tourist information of this village
---
No accommodation has been found in this village ! We propose you offers near by :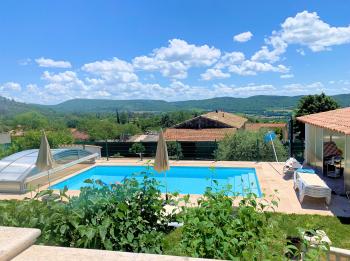 Cottage with heated pool for 2/4 people in the Luberon
Cottage pool - Reillanne - Résidence Ste Marie - Luberon Provence
from 220 € to 490 € per week (depend. season)
for 3/4 person(s)
Check out our Top 20 Holiday rentals, Cottages, Hotels, Inns, Camping
Villemus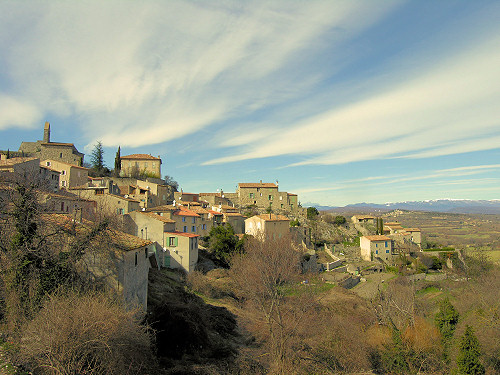 © Luberonweb
Ville d'environ 180 habitants
Historique :
Cité au 11ème siècle.
Seigneurie des Villemus, puis des Estienne.
Exploitation jusqu'au 19ème de la lignite, de la chaux et du grès bitumineux.
Présentation :
Villemus est un beau village perché du Luberon, pittoresque, à l'architecture des 16ème et 18ème siècles.
Très belle vue du château.
Nombreux sentiers de randonnée dans le Luberon.
Situation géographique :
Villemus est situé dans le Luberon, entre les vallées de la Durance, du Largue et du Calavon, à 10 minutes de Céreste via la nationale 100, puis la départementale 907 (route de Manosque).
Curiosités touristiques :
Nécropole gallo-romaine : sarcophage en plomb.
Ruines du château détruit sous la Révolution (tour de 10 mètres).
Maison seigneuriale du Castellet du 17ème (belles voûtes).
Eglise Saint-Etienne du 17ème : nef remaniée aux 18ème et 20ème siècle.
Presbytère relié à l'église par un chemin aérien (superbe vue sur les Alpes).
Chapelle Notre-Dame-du-Pont, et ancien prieuré.
Traces de la chapelle romane Saint-Trophime.
Oratoire Saint-Joseph.
Marchés, fêtes, foires et Festivals :
Foire début février et mi-décembre
Fête votive le dimanche suivant le 8 septembre.