Vacheres - Cottages in Provence
Vacheres, beautiful village between Luberon and Lure Mountain
J'inscris ma location sur Luberonweb
Holiday rentals, gites, guest rooms, hotels, campgrounds in Vacheres
Tourism information on Vacheres
See the Luberon Map

See tourist information of this village
---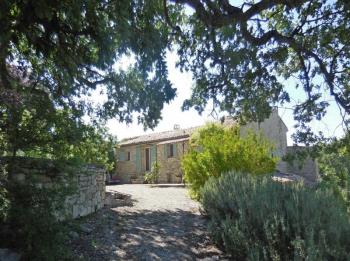 Domaine de La Lave - EMMA
Cottage pool - Vacheres - Domaine La Lave - Luberon Provence
from 80 € to 100 € per day (depend. season)
for 2/3 person(s)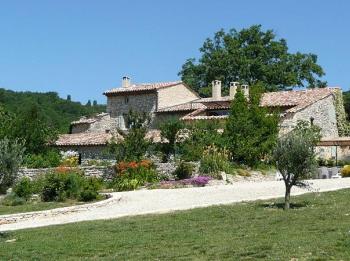 Domaine de La Lave - CAMILLE
Cottage charm - Vacheres - La Lave - Luberon Provence
from 90 € to 170 € per day (depend. season)
for 4/5 person(s)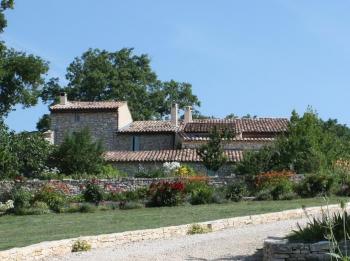 Domaine de La Lave - MARIE
Charming Holiday rental - Vacheres - Mas la Lave - Luberon Provence
from 90 € to 160 € per day (depend. season)
for 3/4 person(s)
We propose you also nearby :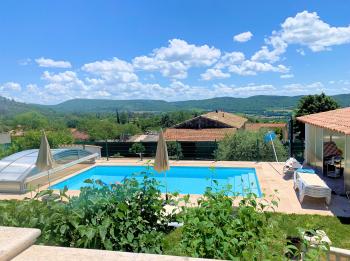 Cottage with heated pool for 2/4 people in the Luberon
Cottage pool - Reillanne - Résidence Ste Marie - Luberon Provence
from 220 € to 490 € per week (depend. season)
for 3/4 person(s)
Check out our Top 20 Holiday rentals, Cottages, Hotels, Inns, Camping
Vachères, village of Alpes-de-Haute-Provence, between Luberon and country of Forcalquier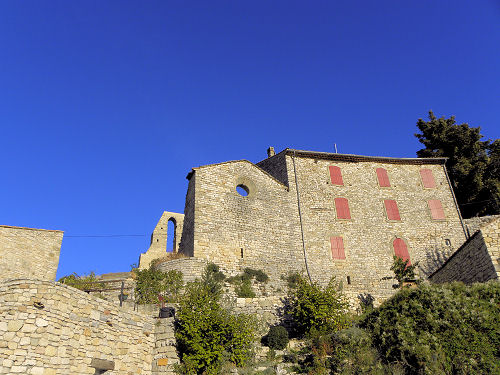 © Luberonweb
Vachères, village of Alpes-de-Haute-Provence, located at 830 meters altitude enjoying sumptuous views over the Alps and over all the Provence
Village d'environ 350 habitants
Historique :
Territoire occupé pendant toute l'antiquité, c'est au jas de Bellevue que fut trouvée la célèbre statue du guerrier celto-ligure de l'armée de l'empereur Auguste (musée Calvet à Avignon).
Village fortifié au 13ème siècle.
La seigneurie fut partagée entre de nombreux seigneurs, dont : Vachères (13ème/18ème), Meyran (16ème/17ème), Bermond (17ème/18ème).
Présentation :
Vachères est un superbe village ancien perché du Parc naturel du Luberon.
Très beau panorama du plateau des Moulins (par temps clair, vue sur 7 départements !).
Café-restaurant labelisé "Bistrot de Pays".
Passage du GR6.
Nombreux sentiers de randonnée.
Situation géographique :
Vachères se situe entre le Luberon et la Montagne de Lure, sa position dominante (800 mètres d'altitude) lui offre de superbes panoramas sur toute la Provence.
Vachères, village des Alpes-de-Haute-Provence, n'est qu'à quelques kilomètres à l'Est du Vaucluse.
Vachères se trouve au centre d'un cercle formé par les villages de Rustrel, Simiane-la-Rotonde, Saint-Michel-l'Observatoire, Reillanne et Viens.
Curiosités touristiques :
Site du plateau des Moulins, successivement occupé au paléolithique (armes, outils), au néolithique (hache polie) et à l'âge du Bronze.
Autres stations : le Pichoyet (paléolithique), le Mont St-Laurent (néolithique et chalcolithique), Sylvabelle.
Dolium, dalles inscrites à la Conseillère.
Ruines du château fort.
Anciens remparts, campanile sur la tour de l'Horloge du 16ème.
"Le Château", demeure 18ème à 4 tours.
Château du Colombier du 17ème et 18ème.
3 moulins ruinés au plateau des Moulins.
Ruines de l'église romane Saint-Christophe du 13ème.
Prieuré restauré.
Eglise romane à La Conseillère.
Chapelle Notre-Dame de Bellevue, d'origine romane.
2 oratoires.
Musée :
Petit musée de paléontologie et d'archéologie : le guerrier de Vachères celto-ligure.
Marchés, fêtes, foires et Festivals :
Fête votive à la mi-août.
Discover the best holiday accommodation in Provence !