Saint-Trinit - Holiday rentals Provence - Luberon
Saint-Trinit, peaceful little village in the land of lavender
J'inscris ma location sur Luberonweb
Holiday rentals, gites, guest rooms, hotels, campgrounds in Saint-Trinit
Tourism information on Saint-Trinit
See the Provence Map

See tourist information of this village
---
No accommodation has been found in this village ! We propose you offers near by :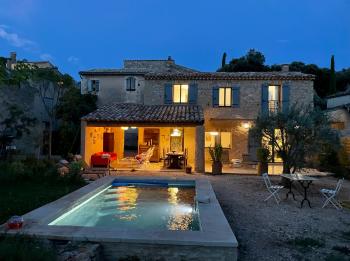 typical Provençal house
Holiday rental, villa - Simiane-la-Rotonde - Le clôt de Lève - Luberon Provence
from 630 € to 1.400 € per week (depend. season)
for 3/4 person(s)
Check out our Top 20 Holiday rentals, Cottages, Hotels, Inns, Camping
Saint Trinit, charming little village in the north of the Vaucluse, near the mont Ventoux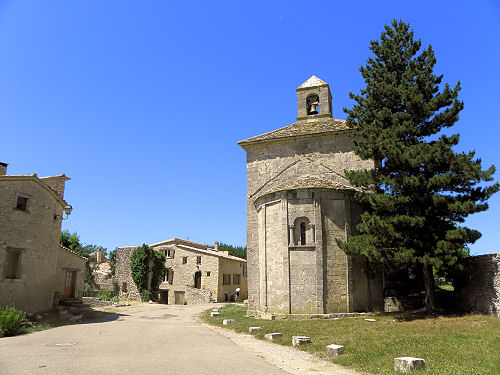 © Luberonweb
Saint Trinit is a small village in the northwest of Sault in Vaucluse. Village of charm, with old stone houses, with superb view over the Mount Ventoux
Village d'environ 150 habitants
Historique :
Des traces d'hommes du néolithique furent retrouvées sur le territoire de la commune de Saint-Trinit.
Le nom de Santa Trinitat (prieuré bénédictin) apparait en 1082.
Au 12ème siècle, l'abbaye Saint-André de Villeneuve-lès-Avignon est propriétaire de l'église paroissiale de Saint-Trinit. Puis en 1118, cette possession de l'ecclesia Sanctae trinitatis cum ipsa villa est confirmée par une bulle du pape Gélase II (pape de 1118 à 1119).
Au 13ème siècle, ce fief passa aux évêques de Carpentras.
Présentation :
Saint-Trinit est un paisible petit village, avec une superbe vue sur le mont Ventoux.
Proximité du Ventoux, et du Luberon.
850 mètres d'altitude moyenne.
Pays de la lavande.
Nombreux chemins de randonnées.
Situation géographique :
Le village de Saint-Trinit est situé sur l'axe reliant Resvest-du-Bion à Sault (départementale 960). Saint-Trinit est au carrefour du Ventoux, du Luberon, de la Drôme provençale et du plateau d'Albion, un lieu de vacances pour visiter la Provence.
Curiosités touristiques :
Eglise de la Sainte-Trinité du 12ème siècle, remaniée fin 16ème.
Chapelle Saint-Roch du 17ème siècle.
Marchés, fêtes et Festivals :
Fête votive en mai, le dimanche de la Saint Trinité (dimanche suivant la Pentecôte).
Fête du Champignon, le 2ème dimanche d'octobre.