Puimichel - Lodging Provence
Puimichel, a small village in the Alpes-de-Haute-Provence, between Forcalquier and Digne-les-Bains
J'inscris ma location sur Luberonweb
Holiday rentals, gites, guest rooms, hotels, campgrounds in Puimichel
Tourism information on Puimichel
See the Provence Map

See tourist information of this village
---
No accommodation could been found
For the moment, there is no rentals available for your search criteria.
If you selected HOLIDAY RENTALS, try GITES, or conversely, there are no real differences between these types of accommodation.
Otherwise, try a more generic search, or an another region of Provence.
You can also post a request on the Forum.
Check out our Top 20 Holiday rentals, Cottages, Hotels, Inns, Camping
Puimichel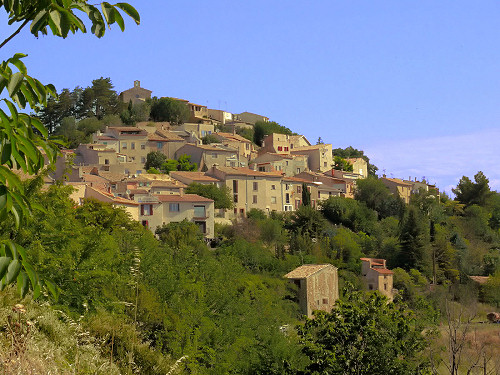 © Luberonweb
Ville d'environ 300 habitants
Historique :
Cité "Podium Michadis" au 12ème siècle.
Seigneurie des seigneurs du lieu au 13ème, puis des Lincel, des Berre, des Villeneuve, des Glandevez.
Patrie de sainte Delphine de Glandevez (13ème), épouse mystique de saint Elzéar de Sabran.
Le village fut dévasté au 16ème : d'abord par la peste, puis par les guerres de Religion.
Présentation :
Puimichel est un petit village perché à 700 mètres d'altitude, plein de charme (vieilles maisons, rues étroites en calades).
Station climatique.
Torrent "le Rancure".
Observatoire Astronomique amateur de Puimichel (Dany Cardoen, astronome belge).
Situation géographique :
Puimichel est situé situé entre le Pays de Digne-les-Bains et le Plateau de Valensole. Lieu de vacances idéal pour les amateurs de l'air pur en Haute-Provence, de la nature et des randonnées.
Curiosités touristiques :
Maison noble du 18ème.
Restes d'une tour de moulin.
Eglise Notre-Dame-du-Serre romane du 13ème.
Chapelle rustique Saint-Elzéar (restaurée), au dessus du village .
Oratoires.
Marchés, fêtes et Festivals :
Fêtes patronales en août, fin septembre et fin novembre.
Foires : fin avril et fin septembre.