Plan-d'Orgon - Holiday rental Provence
Plan-d'Orgon, village between Saint-Remy-de-Provence and Cavaillon
J'inscris ma location sur Luberonweb
Holiday rentals, gites, guest rooms, hotels, campgrounds in Plan-Orgon
Tourism information on Plan-Orgon
See the Luberon Map

See tourist information of this village
---
No accommodation has been found in this village ! We propose you offers near by :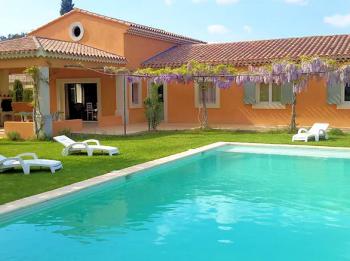 Holiday villa with pool for 8 persons at the foot of the Luberon
Holiday villa pool - Les-Taillades - Sous les oliviers - Luberon Provence
from 2.200 € to 3.000 € per week (depend. season)
for 6/9 person(s)
Check out our Top 20 Holiday rentals, Cottages, Hotels, Inns, Camping
Plan-Orgon
Ville d'environ 3.000 habitants
Historique :
Plan-d'Orgon est un ancien hameau du village d'Orgon, situé plus au Sud, qui a été érigé en commune 27 juillet 1923.
Son histoire se confond donc avec celle du village d'Orgon.
Les habitants sont appelés les Planais.
Présentation :
Plan-d'Orgon est comme son voisin Orgon, un village de la plaine agricole sud de la Durance.
Rive de la Durance (pêche).
Arènes (spectacles taurins).
Circuit en Vélo Rails, depuis la gare.
Proximité des Alpilles et du Luberon.
Chemins de randonnée.
Situation géographique :
Plan-d'Orgon se situe au croisement de la N7 et de la N538, au Nord-Est des Alpilles face à la ville de Cavaillon, porte Ouest du Luberon.
La proximité de l'autoroute A7 vous permettra, pendant vos vacances, de rapidement accéder aux régions provençales voisines.
Curiosités touristiques :
Château de Saint-Estève, au nord.
Eglise Saint-Louis de 1835.
Marchés, fêtes, foires et Festivals :
Marché le dimanche.
Foire aux chevaux et à la brocante, fin mars.
Fête de Pont (grand défilé costumé), début juillet.
Fête de la Saint-Louis la 2ème quinzaine août (courses de taureaux et vachettes, aïoli populaire).