Piolenc - Holiday rentals Provence
Piolenc, einer Piolenc, a small town north of Orange, in the Comtat Venaissin in Provence.
J'inscris ma location sur Luberonweb
Holiday rentals, gites, guest rooms, hotels, campgrounds in Piolenc
Tourism information on Piolenc
See the Provence Map

See tourist information of this village
---
No accommodation has been found in this village ! We propose you offers near by :
L'Oustaou des Valayans - Pernes-les-Fontaines (Vaucluse - Comtat Venaissin)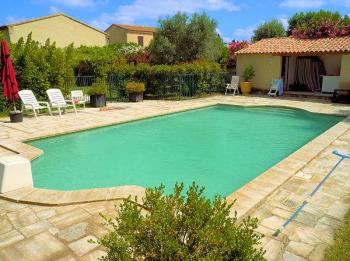 Villa with pool in Provence
Holiday villa pool - Pernes-les-Fontaines - L'Oustaou des Valayans - Luberon Provence
from 1.100 € to 1.600 € per week (depend. season)
for 5/6 person(s)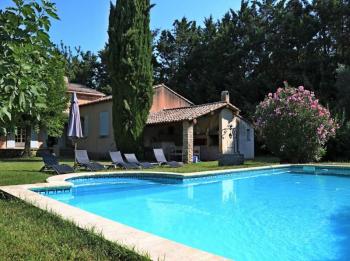 Holiday villa with pool in Provence
Holiday villa pool - Althen des Paluds - Mas du Blancas - Luberon Provence
from 1.000 € to 2.200 € per week (depend. season)
for 6/9 person(s)
Check out our Top 20 Holiday rentals, Cottages, Hotels, Inns, Camping
Piolenc
Ville d'environ 4.700 habitants
Historique :
Ancien castrum romain.
Cité "Podiolenum" au 11ème siècle.
Un prieuré de Cluny y fut fondé au 11ème siècle par Roubaud, marquis de Provence.
Seigneurie du Saint-Siège.
Présentation :
Piolenc est une petite ville de la plaine du Rhône bâtie autour de son ancien castrum.
Ville pleine de charme, traversée par le "Rieu du Foyro", affluent du Rhône.
Forêt communale (Forêt du Paty), propice aux randonnées.
Plan d'eau de Piolenc "Li Piboulo" de 75 hectares.
Proximité (6 km) de la superbe ville romaine d'Orange (Chorégies d'Orange).
Parc Cirque Alexis Grüss.
Poney-club.
Situation géographique :
Piolenc est située dans le Comtat Venaissin (enclave des Papes), à quelques kilomètres au Nord de la ville antique d'Orange. Piolenc, un lieu vacances, vous permettra de visiter les régions proches de la Drôme Provençale et du Ventoux.
Curiosités touristiques :
Oppidum néolithique de Cargoules.
Vestiges de l'enceinte ronde du 14ème.
Vaste place méridionale, avec platanes et fontaines.
Château de Beauchêne, dans un cadre boisé.
Château de Crochans, parc paysager et bois.
Eglise paroissiale de Saint-Pierre (romano-gothique).
Oratoire Notre-Dame-de-Bonne-Rencontre du 19ème.
Musées :
Musée Christian Devalque : paléontologie et archéologie.
Musée vivant du Cirque européen Alexis Grüss, parc d'animation.
Marchés, fêtes et Festivals :
Marché le lundi.
Fête votive le dernier dimanche de juin ou le 1er dimanche juillet.
Fête de l'Ail le dernier week-end août.