Pierrevert - Holiday rental Provence
Pierrevert, village in the East Luberon, in the Alpes-de-Haute-Provence
J'inscris ma location sur Luberonweb
Holiday rentals, gites, guest rooms, hotels, campgrounds in Pierrevert
Tourism information on Pierrevert
See the Luberon Map

See tourist information of this village
---
No accommodation has been found in this village ! We propose you offers near by :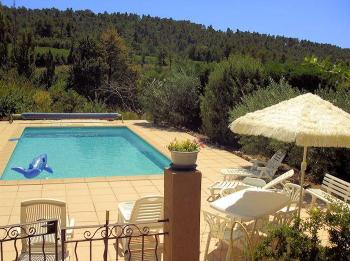 Hire with swimming pool in the southern Luberon
Vacation rental pool - La Bastide des Jourdans - Villa Longues Terres - Luberon Provence
from 1.300 € to 1.500 € per week (depend. season)
for 5/6 person(s)
Check out our Top 20 Holiday rentals, Cottages, Hotels, Inns, Camping
Pierrevert
Ville d'environ 4.000 habitants
Historique :
Cité "de Petra viridi" en 1113, ce qui signifie "pierre verte". Le nom actuel est donc une francisation de l'occitan "pèira viridi", pour "pierre verte".
Possession de Saint-Victor de Marseille. Seigneurie des Anduse (14ème) et des Levy-Ventadour (14ème/17ème). Ravagé vers 1390 par Raymond de Turenne, lors des guerres de religions.
Présentation :
Pierrevert est un beau village du Luberon à caractère médiéval.
Belle vue sur la vallée de la Durance, les Alpes et le Luberon. Passage du GR4.
Golf de la Grande Gardette.
Proximité des Lacs de Sainte Croix et d'Esparron (baignades, canoë, pédalo, ...).
Situation géographique :
Pierrevert est au carrefour des départements du Var, du Vaucluse, des Bouches-du-Rhône et des Alpes-de-Haute-Provence. Pierrevert est situé au pid du versant sud du Luberon Oriental, entre Manosque (au Nord) et Sainte-Tulle (au Sud). La situation géographique de Pierrevert vous permettra, pendant vos vacances, de visiter le Luberon et le Pays d'Aix-en-Provence, à l'Ouest, les Gorges du Verdon et ses lacs, à l'Est.
Curiosités touristiques :
Vestiges gallo-romains.
Vestiges de fortifications.
Château Sainte-Marie-Marguerite, remanié.
Eglise Saint-Patrice du 17ème (portail du 14ème).
Chapelle Saint-Patrice roman du 14ème.
Ruines de la chapelle de la Done (9ème).
Chapelle Saint-Véran.
Oratoires.
Marchés, fêtes, foires et Festivals :
Marché le dimanche.
Fête communale le 1 mai.
Fête de la Saint-Patrice en mars.
Open International d'échecs vers la mi-avril.
Les Nuits Photographiques, fin juillet.
Fête des vins à la mi-août.