Monteux - Holidays Provence Vaucluse
Monteux, city of the Comtat Venaissin, in the Vaucluse
J'inscris ma location sur Luberonweb
Holiday rentals, gites, guest rooms, hotels, campgrounds in Monteux
Tourism information on Monteux
See the Provence Map

See tourist information of this village
---
No accommodation has been found in this village ! We propose you offers near by :
L'Oustaou des Valayans - Pernes-les-Fontaines (Vaucluse - Comtat Venaissin)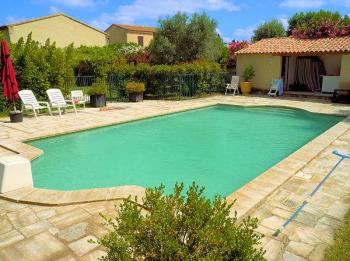 Villa with pool in Provence
Holiday villa pool - Pernes-les-Fontaines - L'Oustaou des Valayans - Luberon Provence
from 1.100 € to 1.600 € per week (depend. season)
for 5/6 person(s)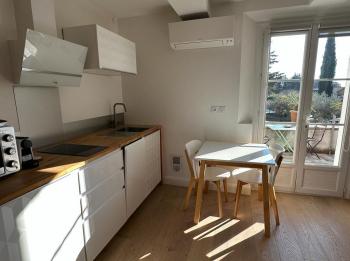 Stopover gite for 2 people in the Provence of the Popes
Stopover gite - Pernes-les-Fontaines - Gîte de Baptiste - Luberon Provence
from 45 € to 60 € per day (depend. season)
for 2/3 person(s)
Check out our Top 20 Holiday rentals, Cottages, Hotels, Inns, Camping
Monteux
Ville d'environ 11.000 habitants
Historique :
Possession des comtes de Toulouse au 11ème siècle. Le fief de Monteux fut mis en suzeraineté à Barral des Baux en 1240 par Raymond VII.
Au 14ème siècle, le Comtat Venaissin ayant été attribué au pape, Clément VI l'acheta au comte Jean I. Sous la Révolution, Monteux fut la base arrière de l'armée d'Avignon lors du siège de Carpentras.
Présentation :
Monteux est une petite ville du Vaucluse traversée par l'Auzon.
Proximité de Carpentras, d'Avignon, du mont Ventoux et du Luberon.
Parc Bellerive et Parc Notre Dame, situés de part et d'autre de l'Auzon.
Nombreuses activités sportives et culturelles.
Situation géographique :
Monteux est une magnifique petite ville du Vaucluse située au cœur du Comtat Venaissin. La situation géographique de Monteux en fait un lieu de vacances "stratégique" pour visiter la Provence papale, le Ventoux, le Luberon, ...
Curiosités touristiques :
La Tour Clémentine est le vestige du château médiéval de Monteux (11ème/15ème siècle). Cette Tour fut ainsi baptisée en l'honneur du pape Clément V. De sa hauteur de 28 mètres, vous pourrez contempler l'ensemble de la ville et la plaine du Comtat Venaissin. elle est classée aux Monuments Historiques depuis le 8 janvier 1910.
La Porte Neuve et la Porte d'Avignon, superbes vestiges des remparts de la cité, sont datées du 14ème siècles et classées Monuments Historiques.
L'Église Notre Dame de Nazareth, du 14ème siècle, récemment restaurée a été classée Monuments Historiques.
La Chapelle Notre Dame des Grâces du 17ème, fut édifiée lors de la grande épidémie de peste.
La Chapelle des Pénitents Noirs qui appartenait à la Confrérie des Pénitents Noirs, association religieuse fondée à Monteux en 1566.
L'Hôpital St Pierre, aujourd'hui Hôtel de Ville de la commune du début 18ème.
Marchés, fêtes et Festivals :
Marché le dimanche matin.
Grande fête patronale de la Saint Gens, et pèlerinage au Beaucet, à la mi-mai.
Fête historique "la Légende des Siècles" (grande reconstitution historique aux thèmes variés), tous les 2 ans à la Pentecôte.
Fête de la Saint Jean (feria, feu d'artifice, spectacle son et lumières, ...), en août.
Foire d'automne, en septembre.