Mirabeau Luberon - Holiday rentals
Mirabeau. South Luberon village, east of Pertuis (Provence - south France)
J'inscris ma location sur Luberonweb
Holiday rentals, gites, guest rooms, hotels, campgrounds in Mirabeau
Tourism information on Mirabeau
See the Luberon Map

See tourist information of this village
---
No accommodation has been found in this village ! We propose you offers near by :

Charming holiday rental in the south Luberon
Holiday rental charm - La Tour d'Aigues - Campagne la Ravelle - Luberon Provence
from 1.500 € to 2.200 € per week (depend. season)
for 6/9 person(s)
Check out our Top 20 Holiday rentals, Cottages, Hotels, Inns, Camping
Mirabeau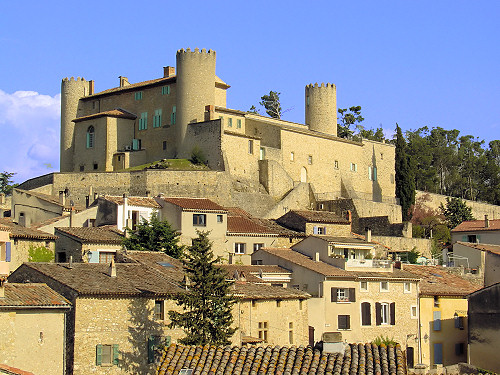 © Luberonweb
Ville d'environ 1.100 habitants
Historique :
Cité "Mirabellum" au 12ème siècle.
Fief du vicomte de Cavaillon, puis des évêques de Marseille. Fief des Barras au 14ème, puis des Glandevès au 16ème, érigé en marquisat en 1685 en faveur d'Honoré de Riquetti, grand-père de Mirabeau. La comtesse de Martel, puis Maurice Barrès, furent propriétaire du château.
Le village de Mirabeau servit de décor aux tournages de "Jean de Florette" et "Manon des Sources" par Claude Berri, d'après l'œuvre de Marcel Pagnol.
Présentation :
Le village pittoresque de Mirabeau qui domine la Durance (magnifique panorama) est groupé sous son château des Mirabeau.
Superbe Panorama depuis le château de Mirabeau.
Parc du château aménagé en promenade publique.
Passage du GR9 et GR5.
Nombreuses promenades et sentiers de randonnées dans le Luberon.
Situation géographique :
Mirabeau est situé dans le sud-est du Luberon, entre Pertuis et Manosque, au carrefour de quatre départements : le Vaucluse, les Bouches-du-Rhône, les Alpes-de-Haute-Provence, et le Var.
Curiosités touristiques :
Trace d'occupation romaine.
Château du 17ème, reconstruit après la Révolution et restauré au 19ème, parc.
Belles maisons des 16ème/17ème, beaux porches.
Jolies fontaines.
Ancienne auberge du Grand Logis des 16ème/18ème.
Nombreuses fermes anciennes aux alentours.
Eglise paroissiale Saint-Pierre d'origine 12ème, remaniée aux 17ème et 19ème.
Belle chapelle rurale Sainte-Madeleine fin du 12ème.
Vestiges de la chapelle du 17ème du Saint-Sépulcre.
Chapelle Notre-Dame-de-la-Bonne-Mère du 17ème dans la forêt Saint-Jean, en mauvais état.
Chapelle Saint-Eucher d'époque médiévale.
Oratoires Saint-Denis et Saint-Pons du 19ème.
Marchés, fêtes, foires et Festivals :
Marchés les jeudi et samedi en nocturne en été.
Fête votive de 5 jours le premier dimanche d'août.