Le Thor - Holiday rentals Luberon
Le Thor, a small town in the Vaucluse (Provence - south France), near the Luberon
J'inscris ma location sur Luberonweb
Holiday rentals, gites, guest rooms, hotels, campgrounds in Le-Thor
Tourism information on Le-Thor
See the Luberon Map

See tourist information of this village
---
No accommodation has been found in this village ! We propose you offers near by :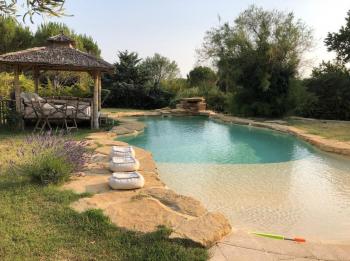 Holiday villa with swimming pool for 6 people
Holiday villa pool - Isle-sur-la-Sorgue - Le Gazebo - Luberon Provence
from 1.680 € to 2.180 € per week (depend. season)
for 5/6 person(s)
Check out our Top 20 Holiday rentals, Cottages, Hotels, Inns, Camping
Le-Thor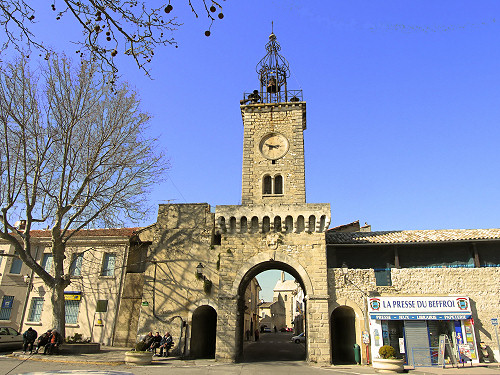 © Luberonweb
Ville d'environ 7.800 habitants
Historique :
Cité "Torum" en 1029.
Co-seigneurie des comtes de Toulouse et de Barcelone, puis de Giraud Amic III de Sabran et de la ville d'Avignon.
Fief partagé ensuite entre les papes et plusieurs familles illustres : les Amic, les Villeneuve, les Boulbon et, en dernier, les ducs de Caderousse.
Présentation :
Le Thor est une petite ville pittoresque de plaine, bâtie entre deux bras de la Sorgue (canoë-kayak).
Visite des grottes de Thouzon, longues de 250 m, aux remarquables concrétions.
Panorama au sommet de la colline de Thouzo.
Auditorium du Thor, présentant des spectacles toute l'année.
Proximité du Luberon.
Situation géographique :
Le Thor est située entre Châteauneuf-de-Gadagne et l'Isle-sur-la-Sorgue, aux confins du Pays d'Avignon, du Comtat Venaissin, du Ventoux et du Luberon.
Curiosités touristiques :
Vestiges néolithiques du Mourre-du-Diable.
Vestiges de L'enceinte médiévale crénelée du 12ème.
Quatre portes et trois poternes du 14ème.
Château 12ème du Thor jouxtant les remparts et baigné par la Sorgue.
Vestiges de château et de chapelle sur la colline de Thouzon.
Eglise paroissiale Notre-Dame-du-Lac fin 12ème.
Importants vestiges de l'ancien monastère fortifié (15ème) de Thouzon.
Restes d'un couvent dominicain 17ème (ferme).
Musée :
Marchés, fêtes, foires et Festivals :
Marchés les mercredi et samedi.
Fête patronale le 15 août.
Fête du hameau de Thouzon le 1er dimanche de mai.
Festival de la Sorgue en juillet.