Lagnes - Lodgings in the Luberon
Lagnes, village at the doors of the Regional Natural Park of the Luberon
J'inscris ma location sur Luberonweb
Holiday rentals, gites, guest rooms, hotels, campgrounds in Lagnes
Tourism information on Lagnes
See the Luberon Map

See tourist information of this village
---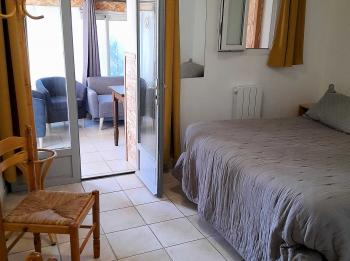 Lodging with pool in the Luberon
Lodging Pool - Lagnes - Le Gite Luberon - Luberon Provence
from 389 € to 619 € per week (depend. season)
for 3/4 person(s)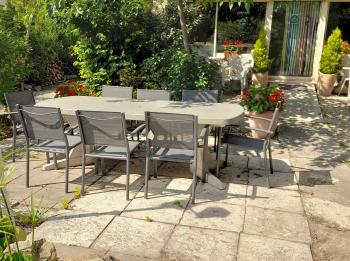 Bed & Breakfast and meals in the Luberon
Guest rooms Pool - Lagnes - Chez Cécile - Luberon Provence
from 70 € to 119 € per day (depend. season)
3 room(s)
We propose you also nearby :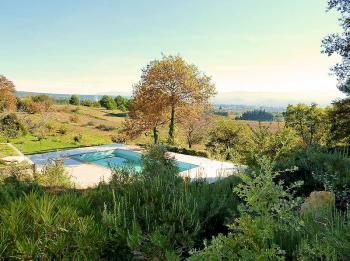 Seasonal hire with pool in Cabrières d'Avignon in the Luberon
Holiday cottage pool - Cabrieres-Avignon - Les Ortolans - Luberon Provence
from 1.200 € to 1.690 € per week (depend. season)
for 5/6 person(s)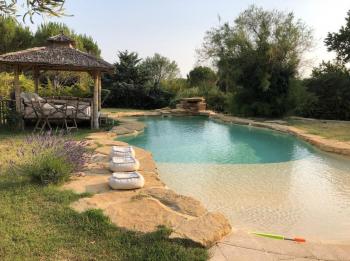 Holiday villa with swimming pool for 6 people
Holiday villa pool - Isle-sur-la-Sorgue - Le Gazebo - Luberon Provence
from 1.680 € to 2.180 € per week (depend. season)
for 5/6 person(s)
Check out our Top 20 Holiday rentals, Cottages, Hotels, Inns, Camping
Lagnes, village between Luberon and country of Avignon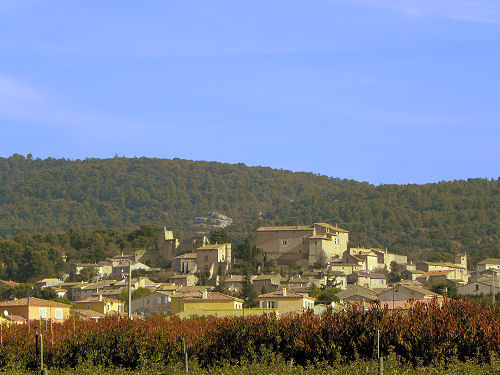 © Luberonweb
Lagnes is a village of charm at the border of the Luberon Regional Park, in the country of Avignon (Vaucluse)
Village d'environ 1.700 habitants
Historique :
Cité "Lagnas" en 1154.
Co-seigneurie du 13ème au 16ème (cinq tenants au 16ème).
En 1648, le pape Innocent X érigea le fief en marquisat, au profit de Louis de Cambis.
Au 18ème, la seigneurie était partagée entre les Cambis et les Fortia.
Présentation :
Lagnes est un très beau village est aux portes du Parc naturel régional du Luberon, au milieu des vignes (Côtes-du-Ventoux). Lagnes est étalé sur une légère butte aux confins des monts de Vaucluse, dans la plaine de la Sorgue.
Belle vue sur la Durance et le Luberon.
Vaste panorama de la colline dominant le village.
Passage du Canal de Carpentras dans le village.
Equitation, Canoë.
Festival de la Sorgue, en été.
Situation géographique :
Lagnes est situé à la porte Ouest du Luberon.
Lagnes est proche des plus beaux villages du Luberon : Gordes, Cabrières d'Avignon, Ménerbes, Saumane-de-Vaucluse, l'Isle-sur-la-Sorgue, ...
Curiosités touristiques :
Emplacement d'habitats préhistoriques à Claparousse.
Restes de remparts 14ème/15ème démolis en 1825.
Château gothico-Renaissance 13ème, repris 16ème et 17 ème.
Quelques maisons 16ème/17ème.
Beffroi de l'horloge.
Fontaine aux fines statuettes.
Vieux lavoirs.
Mur de la Peste de 1720.
Eglise paroissiale Saint-Pierre de 1844.
Ancienne chapelle Saint-Antoine du 12ème.
Chapelle Saint-Véran du 18ème.
Chapelle des Pénitents Blancs du 18ème.
Chapelles rurales Saint-Jean du 16ème (abandonnée) et Saint-Nicolas romane (en ruine).
Oratoire Saint-Joseph.
Marchés, fêtes, foires et Festivals :
Marché le vendredi.
Festival des Tréteaux de Lagnes, fin juin.
Foire provençale de Lagnes, le dernier week-end de juillet.
Fête votive : l'avant-dernier dimanche de juillet.
Festival de la Sorgue et théâtre en plein air : seconde quinzaine de juillet.
Mardi-Gras : "aïoli monstre", défilé carnavalesque, jugement du Caramentran sur la place publique.
Journée de la Traction Animale, début octobre.
Discover the best holiday accommodation in Provence !