La Tour d'Aigues - Holiday rentals in Provence
La Tour d'Aigues, a small city southern Luberon, in the Vaucluse (Provence - south France)
J'inscris ma location sur Luberonweb
Holiday rentals, gites, guest rooms, hotels, campgrounds in La-Tour-Aigues
Tourism information on La-Tour-Aigues
See the Luberon Map

See tourist information of this village
---
No accommodation has been found in this village ! We propose you offers near by :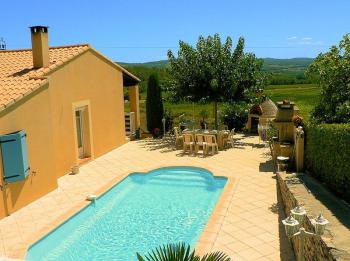 Villa with pool for your summer vacation
Holiday villa pool - Saint-Martin-de-la-Brasque - La Villa Peyronel - Luberon Provence
1.350 € per week (depend. season)
for 5/6 person(s)
Check out our Top 20 Holiday rentals, Cottages, Hotels, Inns, Camping
La Tour d'Aigues, small town in southern Luberon, with a rich historical heritage
© Luberonweb
La Tour d'Aigues is the capital city of the pays d'Aigues (Aigues = water in the Provencal language) south-east region of Luberon, near Aix-en-Provence.
Ville d'environ 4.000 habitants
Historique :
Les "Turris", propriété d'un certain Béranger entre 1002 et 1018.
En 1240, à la suite d'une succession obscure, La Tour-d'Aigues était à un Sabran, en 1410 aux d'Agoult, puis au début du 16ème au baron de Bolliers, qui fit construire le château.
Au 16ème, seigneurie des Lesdiguières et enfin des Bruni.
François Ier y passa une nuit, Catherine de Médicis et sa cour y séjournèrent en 1579.
Présentation :
La Tour-d'Aigues dans le sud Luberon, est la capitale du pays d'Aigues, vallée s'étendant de la Durance au Mourre Nègre (point culminant du Luberon), et de Lourmarin aux collines de Beaumont-de-Pertuis.
Nombreux sentiers de randonnée.
Festival d'été au château.
Depuis la mise en route du projet ITER du CEA de Cadarache, La Tour-d'Aigues est une petite ville en pleine expansion.
Situation géographique :
La Tour-d'Aigues est une petite ville, située à 5 km au Nord-Est de Pertuis, dans le sud Luberon, dominant légèrement la plaine de l'Eze.
Proche de l'Etang de La Bonde (plages, baignade), de Pertuis et d'Aix-en-Provence.
Curiosités touristiques :
Vestiges du château d'origine 11ème, transformé en château Renaissance au 16ème, bâti sur des assises médiévales.
Bel ensemble urbain : beaux hôtels et maisons des 17ème et 18ème, maison noble Calmon du 17ème, ...
Tour de Tourel transformée au 15ème en pigeonnier.
Ancien prieuré médiéval du 13ème/15ème (mairie).
Pont à 2 arches de 1666.
Fontaines.
Eglise Notre-Dame-de-Roumégas du 11ème/12ème, agrandie au 19ème.
Chapelle Saint-Christophe 1558 dans le parc du château.
Petite chapelle restaurée en style roman, à l'entrée du cimetière.
Ancienne chapelle Notre-Dame-de-Pitié 1679.
Musées :
Musée des Faïences.
Musée de la Vallée d'Aigues. Dans les caves du château : histoire de la Vallée, du néolithique à nos jours : agriculture, économie, démographie, arts et traditions populaires (documents, photographies, outillage, oeuvres d'art).
Marchés, fêtes, foires et Festivals :
Marché le mardi.
Fête communale le dernier dimanche de juillet.
Fête de la Vigne et du vin en septembre.
Festival au château en été.
Festival "Jazz à La Tour" à la mi-août.