Isle-sur-la-Sorgue - Holiday rentals Provence
Isle-sur-la-Sorgue (Vaucluse), antique dealers village, near the Luberon
J'inscris ma location sur Luberonweb
Holiday rentals, gites, guest rooms, hotels, campgrounds in Isle-sur-la-Sorgue
Tourism information on Isle-sur-la-Sorgue
See the Luberon Map

See tourist information of this village
---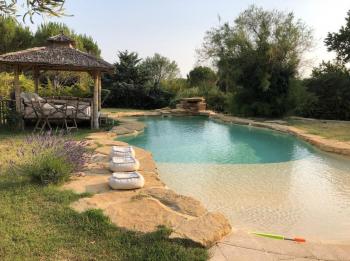 Holiday villa with swimming pool for 6 people
Holiday villa pool - Isle-sur-la-Sorgue - Le Gazebo - Luberon Provence
from 1.680 € to 2.180 € per week (depend. season)
for 5/6 person(s)
We propose you also nearby :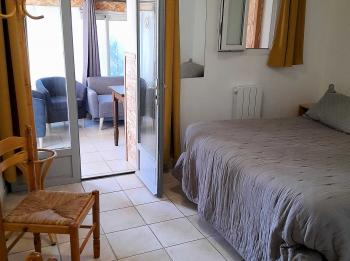 Lodging with pool in the Luberon
Lodging Pool - Lagnes - Le Gite Luberon - Luberon Provence
from 389 € to 619 € per week (depend. season)
for 3/4 person(s)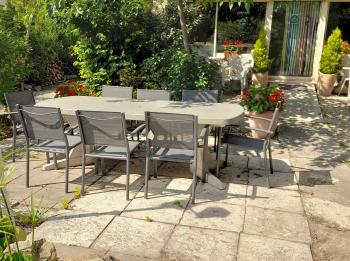 Bed & Breakfast and meals in the Luberon
Guest rooms Pool - Lagnes - Chez Cécile - Luberon Provence
from 70 € to 119 € per day (depend. season)
3 room(s)
Check out our Top 20 Holiday rentals, Cottages, Hotels, Inns, Camping
L'Isle-sur-la-Sorgue charming little town in the Luberon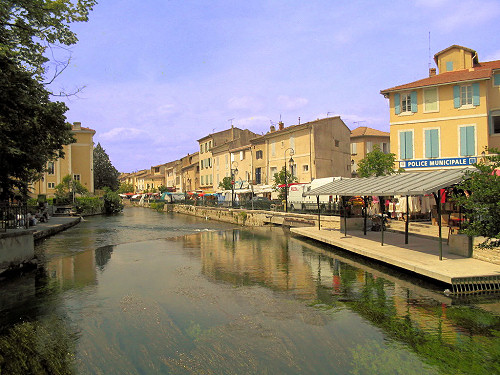 © Luberonweb
L'Isle-sur-la-Sorgue is a charming little town in the northwest of the Luberon, refreshed by the river Sorgue
Ville d'environ 18.100 habitants
Historique :
Mention d'un castrum pendant l'occupation romaine (vestiges gallo-romains à Velorgues).
Fief des comtes de Provence, puis des comtes de Toulouse, puis du Saint-Siège (1274).
La cité a été fortifiée par les papes d'Avignon et devint le refuge des cités voisines.
Le seul témoin des anciennes fortifications de la ville est la tour Boutin, place de la Liberté.
Présentation :
L'Isle-sur-la-Sorgue, surnomée "la Venise provençale".
L'Isle-sur-la-Sorgue, est une ville d'antiquaires et de brocanteurs, de notoriété internationale.
Proximité du Luberon, du Golf de Saumane et du TGV d'Avignon.
Patrie du poète René Char (1907-1988).
Piscine municipale.
Nombreuses activités nautiques sur la Sorgue (canoë-kayak).
Festival de la Sorgue.
Situation géographique :
L'Isle-sur-la-Sorgue est une petite ville située entre Avignon et la vallée Nord du Luberon, à quelques pas de Fontaine-de-Vaucluse.
Curiosités touristiques :
Château et Moulin de Mousquety.
Domaine de La Foulquette.
Domaine de Campredon.
La collégiale Notre-Dame des Anges, d'origine romane, une des plus belles églises baroques de Provence.
La chapelle Saint-Andéol de Velorgues, du 11ème/12ème siècle, entièrement romane.
Chapelle de la Congrégation des Hommes du 17ème : tableaux de Parrocel, Mignard, Vouet, statues.
Chapelle de l'hôpital du 18ème.
Chapelle des Pénitents Bleus du 16ème (théâtre).
Vestiges du premier couvent des Ursulines de France du 16ème.
Ancienne juiverie.
14 roues à aubes (70 au 19ème siècle).
Musées :
Musée Donadeï de Campredon - Maison René Char.
Musée de la poupée et du jouet ancien.
Musée de l'école d'autrefois.
Pharmacie de l'hôpital : collection de pots de pharmacie en Moustiers.
Marchés, fêtes, foires et Festivals :
Marché du Jeudi matin.
Marché du dimanche matin (un des plus importants de France).
Marché agricole au hameau de Petit Palais le Samedi matin (mars à novembre).
Marché flottant, le 1er dimanche du mois d'août.
Marché des brocanteurs tous les dimanches.
Festival de la Sorgue en juillet.
Corso nautique dernier week-end de juillet.
Courses hippiques en juillet et août.
Fééries Nautiques en août.
Foire internationale Antiquités & Brocante à Pâques et au 15 août.
Tournoi de joutes sur la Sorgue, week-end du 15 août.