Crillon-le-Brave. Holiday rental Provence
Crillon-le-Brave, Vaucluse village, near the Mount Ventoux (Provence - south France)
J'inscris ma location sur Luberonweb
Holiday rentals, gites, guest rooms, hotels, campgrounds in Crillon-le-Brave
Tourism information on Crillon-le-Brave
See the Provence Map

See tourist information of this village
---
No accommodation has been found in this village ! We propose you offers near by :
L'Oustaou des Valayans - Pernes-les-Fontaines (Vaucluse - Comtat Venaissin)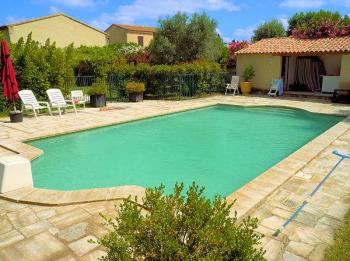 Villa with pool in Provence
Holiday villa pool - Pernes-les-Fontaines - L'Oustaou des Valayans - Luberon Provence
from 1.100 € to 1.600 € per week (depend. season)
for 5/6 person(s)
Check out our Top 20 Holiday rentals, Cottages, Hotels, Inns, Camping
Crillon-le-Brave
Ville d'environ 500 habitants
Historique :
Cité "Crilo" en 1157.
Seigneurie des d'Astouaud puis au 16ème des Berton-Crillon, dont descendait Louis de Berton, compagnon d'Henri IV surnommé par le roi "le brave Crillon", devient duché en 1725.
Epidémie de peste en 1722.
Pendant la Révolution, Crillon-le-Brave devint Roque-Libre.
Présentation :
Crillon-le-Brave est un superbe village perché anciennement fortifié, face au versant sud du mont Ventoux.
Très beaux sites : du château, du village et de la chapelle Notre-Dame.
Belles vues sur le Ventoux.
Station de ski du mont Ventoux.
Situation géographique :
Crillon-le-Brave est situé à 12 km de Carpentras et à 35 km d'Avignon.
Curiosités touristiques :
Traces d'occupation gallo-romaine.
Vestiges gallo-romains à l'Auberte.
Vestiges de remparts du 16ème.
Château du 18ème, d'origine du 12ème.
Beffroi sur porte du 17ème avec un beau campanile du 19ème.
Beaux jardins de la mairie, avec statue de 1858 du "brave Crillon".
Eglise paroissiale Saint-Romain, romane.
Ancienne chapelle Notre-Dame-de-Conception du château, actuelle mairie.
Chapelle votive Notre-Dame-des-Accès de 1721.
Musées :
Musée de la musique mécanique.
Marchés, fêtes et Festivals :
Fête votive le 1er week-end d'août.
Pèlerinage à Notre-Dame-des-Accès début septembre.