Cotignac - Vacation rentals in the Haut-Var in Provence
Cotignac, charming village in the heart of the Provence Verte
J'inscris ma location sur Luberonweb
Holiday rentals, gites, guest rooms, hotels, campgrounds in Cotignac
Tourism information on Cotignac
See the Provence Map

See tourist information of this village
---
No accommodation has been found in this village ! We propose you offers near by :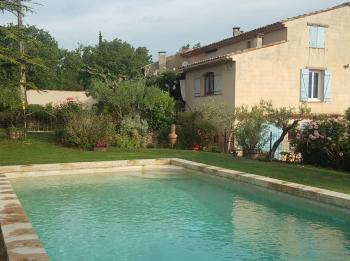 House classified **** 4 stars
Holiday rental pool - Fox-Amphoux - Campagne Fourette - Luberon Provence
from 850 € to 1.500 € per week (depend. season)
for 6/9 person(s)
Campagne en pleine Provence - Fox-Amphoux (Var - Gorges du Verdon)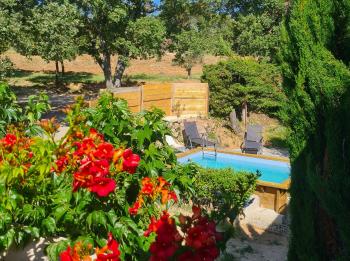 Charming cottage for 8 people in the Haut Var
Large gite - Fox-Amphoux - Campagne en pleine Provence - Haut-Var Provence
from 700 € to 1.200 € per week (depend. season)
for 6/9 person(s)
Check out our Top 20 Holiday rentals, Cottages, Hotels, Inns, Camping
Cotignac, in the heart of green Provence, in the Haut-Var
Village d'environ 2.300 habitants
Historique :
Cité "Cotinacco" dès 1030.
Dès l'an 1033, le château de Cotignac existait, et appartenait à Boniface de Castellane.
Propriété de l'abbaye Saint-André de Villeneuve-lès-Avignon, puis de l'église collégiale de Pignans au 12ème siècle, la seigneurie de Cotignac passa plus tard dans le domaine des comtes de Provence.
Au 17ème siècle, suite au pélerinage de Louis XIV et d'Anne d'Autriche à la chapelle de Notre Dame de Grâces en 1660 (apparitions de la Vierge Marie et de Saint Joseph sur le mont Verdaille), Cotignac, bénéficiant de cette nouvelle notoriété, dévellopa son économie grace à sa production d'huile d'olive.
L'huile d'olive de Provence AOC produite sur la commune de Cotignac reste une des activités économiques principales du village.
Présentation :
Cotignac village de charme du Var, situé au pied d'une falaise.
Rivière de la Cassole.
Nombreuses activités culturelles : théâtre du Rocher, théâtre de Verdure, expositions, médiathèque, ...
Nombreuses randonnées.
Proximité des gorges du Verdon, du lac de Sainte-Croix, de la Sainte-Victoire et d'Aix-en-Provence, de la côte varoise et du golf de Saint-Tropez, ....
Situation géographique :
Cotignac est situé au cœur de la Provence Verte, entre les gorges du Verdon et la Méditerranée. Un lieu de vacances idéal pour visiter la Provence et la côte varoise !
Curiosités touristiques :
Église Notre Dame de Grâces de 1519, au mont Verdaille, lieu de pèlerinage (stérilité des femmes).
Église paroissiale de l'Annonciation de 1266.
Monastère Saint-Joseph au Mont Bessillon, fin 17ème.
Chapelle St Martin, fin 13ème.
Rocher de Cotignac et ses tours dites "sarrasines".
Habitations troglodytiques à flanc de falaise.
L'Hôtel de Ville et son four à pain.
Campanile daté de 1496.
Fontaines des quatre saisons et lavoir, classés aux Monuments Historiques, sur le Cours Gambetta.
Moulin du Piquet, moulin des ribbes.
Plus importante ferme photovoltaïque du Var.
Marchés, fêtes et Festivals :
Marché provençal tous les mardis matin, cours Gambetta et place Joseph Sigaud.
Fête des Lumières, fin décembre.
Fête du coing, fin octobre.
Carnaval, fin mars.
Trail de la montée du Bessillon, fin mars.
Fête "Les Provençales", début août.
Festival de cinéma Les Toiles du Sud.
Pélerinages en mars, août et septembre.