Cheval-Blanc. Holiday rentals in the Luberon
Cheval-Blanc, Vaucluse village (Provence - South France), near Cavaillon
J'inscris ma location sur Luberonweb
Holiday rentals, gites, guest rooms, hotels, campgrounds in Cheval-Blanc
Tourism information on Cheval-Blanc
See the Luberon Map

See tourist information of this village
---
No accommodation has been found in this village ! We propose you offers near by :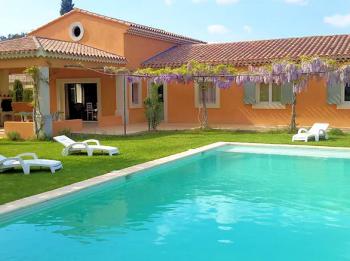 Holiday villa with pool for 8 persons at the foot of the Luberon
Holiday villa pool - Les-Taillades - Sous les oliviers - Luberon Provence
from 2.200 € to 3.000 € per week (depend. season)
for 6/9 person(s)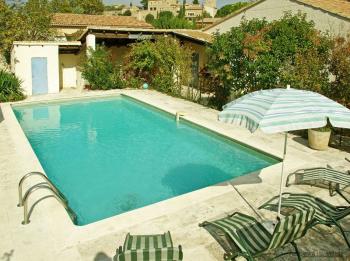 Holiday house with pool for 6 persons in Maubec in the luberon
Holiday rental pool - Maubec - Le Tournesol - Luberon Provence
from 700 € to 1.600 € per week (depend. season)
for 5/6 person(s)
Check out our Top 20 Holiday rentals, Cottages, Hotels, Inns, Camping
Cheval-Blanc, village of the plain of the Durance, in the west of the Luberon
© Luberonweb
Cheval-Blanc, Luberon village, south-east of Cavaillon, along the Durance. The location of Cheval-Blanc is ideal for visiting the Alpilles and the Luberon
Village d'environ 4.000 habitants
Historique :
Cheval-Blanc était le nom d'une auberge.
Commune formée en 1790 par détachement de Cavaillon (la décision de créer un véritable village fut prise le 12 août 1765 par Louis-Joseph Crispin des Achards de la Balme, évêque de Cavaillon, en fondant une paroisse sous le nom de Saint-Paul près de l'Auberge du Cheval Blanc, à l'arrivée du bac sur la Durance).
En 1794, la commune se nomma "Blanc-Montagne".
Présentation :
Cheval-Blanc est un village de la plaine de la Durance.
Plan d'eau de la Grande Bastide : pêche, promenades.
Sentiers de randonnée dans le Luberon.
Réserve géologique et biologique des gorges de Régalon.
Proximité des Alpilles.
Situation géographique :
Cheval-Blanc est une commune à la pointe ouest du petit Luberon, proche de Cavaillon, située ente Luberon et Durance.
Curiosités touristiques :
Habitat préhistorique au vallon Vidauque.
Vestiges d'un habitat gallo-romain à Valloncourt.
Ruines du château de La Roquette du 13ème, dit templier.
Eglise paroissiale Saint-Paul du 17ème et 19ème.
Chapelle Saint-Ferréol d'origine 16ème.
Bel oratoire Saint-Paul du 18ème.
Marchés, fêtes, foires et Festivals :
Marché le mercredi de 8h à 13h.
Fête communale le 14 juillet.
Fête patronale le dimanche suivant 29 juin (saint Paul).
Fête des Belles en février.
Exposition d'art moderne en septembre.