Caumont-sur-Durance. Holiday rental Luberon
Caumont-sur-Durance, village in the Luberon near Cavaillon and Avignon (Provence - South France)
J'inscris ma location sur Luberonweb
Holiday rentals, gites, guest rooms, hotels, campgrounds in Caumont-sur-Durance
Tourism information on Caumont-sur-Durance
See the Luberon Map

See tourist information of this village
---
No accommodation has been found in this village ! We propose you offers near by :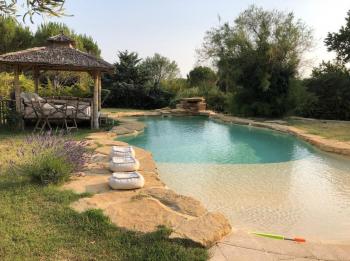 Holiday villa with swimming pool for 6 people
Holiday villa pool - Isle-sur-la-Sorgue - Le Gazebo - Luberon Provence
from 1.680 € to 2.180 € per week (depend. season)
for 5/6 person(s)
Check out our Top 20 Holiday rentals, Cottages, Hotels, Inns, Camping
Caumont-sur-Durance village in the country of Avignon, near the Luberon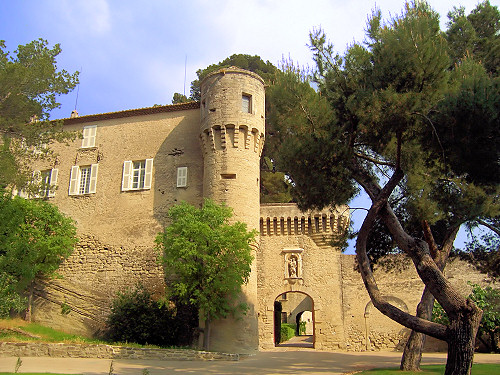 © Luberonweb
Caumont-sur-Durance is important village near Avignon, ideal place for exploring the Luberon and the Provence of the popes
Village d'environ 5.000 habitants
Historique :
Cité "Cavus Mons" en 1068 (étymologie probablement due aux grottes de la colline dominant le bourg).
Occupation continue de la préhistoire à l'ère romaine, à Bonpas (Lieu où l'on traversait la Durance - "Bon passage", ce qui explique le n devant le p de Bonpas).
Présentation :
Caumont-sur-Durance est une petite ville proche d'Avignon, perché sur une colline en bord de Durance, et s'étend jusqu'à la ville de Cavaillon, porte du Luberon.
Rues anciennes autour de l'église, maisons Renaissance.
Panorama sur les Alpilles et la Durance depuis la chapelle Saint-Symphorien.
Sentier Botanique.
Situation géographique :
Caumont-sur-Durance, est située à proximité d'Avignon, de Cavaillon et du Luberon.
Situer Caumont-sur-Durance sur la Carte Touristique du Luberon
Curiosités touristiques :
A Bonpas, occupation préhistorique : important mobilier.
Vestiges romains nombreux sur le site de la chapelle Saint-Symphorien :mosaïques, céramiques, amphores, monnaies, fragments de statues, vestiges d'un oppidum.
Vestiges de remparts du 14ème.
Tour de l'Agache.
Pressoir à huile du 19ème.
Ancienne chartreuse de Bonpas du 12ème au 17ème, dominant la Durance (enceinte crénelée, porte fortifiée 14ème, belles façades restaurées au 17ème,
Chapelle Notre-Dame du 12ème, jardins à la française, vastes terrasses...). Un bac permettant de traverser la Durance et appartenait à l'abbaye et lui fournissaient des revenus au monastère. La Chartreuse de Bonpas est un monument historique classé.
Eglise paroissiale 18ème.
Chapelle romane ruinée intégrée aux remparts.
Ancienne chapelle des Pénitents blancs du 16ème.
Ancienne chapelle Notre-Dame-des-Pauvres 18ème (bibliothèque municipale).
Musée :
Visite de la Chartreuse et ses jardins à la française.
Jardin archéologique à visiter.
Marchés, fêtes, foires et Festivals :
Marché le jeudi.
Marché annuel du raisin d'août à octobre.
Marché de Noël le 1er dimanche de décembre.
Foire le 3ème dimanche de septembre.
Fête patronale de saint Symphorien (août).
Fête de la Demoiselle le 3ème dimanche de septembre.