Camaret-sur-Aigues, vacation rentals in the Comtat Venaissin, in Provence
Camaret-sur-Aigues, beautiful small medieval town of the Comtat Venaissin in the Vaucluse
J'inscris ma location sur Luberonweb
Holiday rentals, gites, guest rooms, hotels, campgrounds in Camaret-sur-Aigues
Tourism information on Camaret-sur-Aigues
See the Provence Map

See tourist information of this village
---
No accommodation has been found in this village ! We propose you offers near by :
L'Oustaou des Valayans - Pernes-les-Fontaines (Vaucluse - Comtat Venaissin)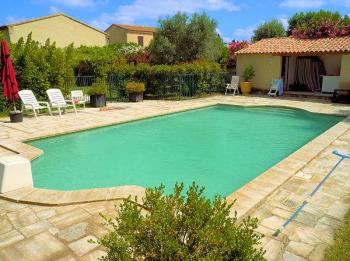 Villa with pool in Provence
Holiday villa pool - Pernes-les-Fontaines - L'Oustaou des Valayans - Luberon Provence
from 1.100 € to 1.600 € per week (depend. season)
for 5/6 person(s)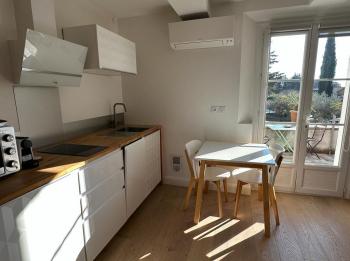 Stopover gite for 2 people in the Provence of the Popes
Stopover gite - Pernes-les-Fontaines - Gîte de Baptiste - Luberon Provence
from 45 € to 60 € per day (depend. season)
for 2/3 person(s)
Check out our Top 20 Holiday rentals, Cottages, Hotels, Inns, Camping
Small medieval town of the Comtat Venaissin
Ville d'environ 5.000 habitants
Historique :
Les fouilles archéologiques des 19èmes et 20ème siècles ont mis à jour le passé romain de la ville, entre autres, les vestiges d'un aqueduc qui fournissait Orange en eau.
Camaret fut le fief de Raymond VII de Toulouse, comte de Provence, puis du bas Moyen Âge et jusqu'à la Révolution, Camaret dépendit de la baronnie de Sérignan.
Au milieu du 19ème siècle, le village, grâce à l'irrigation, développa son agriculture avec maraîchage, huile d'olive, mûriers pour l'élevage des vers à soie et safran, et son industrie : blanchisserie, moulins à farine, fabrique de chapeaux et moulinage de la soie.
Présentation :
Camaret-sur-Aigues est un village du Comtat Venaissin, dont le centre historique est cerné de remparts médiévaux.
Proximité d'Orange.
Nombreux sentiers de randonnées pédestres et vélo.
Nombreux étangs et lacs de baignade à proximité.
Etangs de pêche.
Nombreux sites touristiques à proximité : dentelles de Montmirail, route des vins, Orange, le Ventoux, ...
Situation géographique :
La commune de Camaret-sur-Aigues est située à 6,5 kms au nord-est de la ville d'Orange.
Situer le Comtat Venaissin sur la Carte de la Provence
Curiosités touristiques :
Église paroissiale "Saint-Andéol" du 16ème siècle.
Chapelle Saint-Cœur-de-Marie.
Le Ravelin : ancienne porte des remparts, surmonté d'un campanile et d'une horloge.
La Tour Sarrazine du 13ème siècle.
Marchés, fêtes, foires et Festivals :
Marché le mercredi matin.
Marché du soir (avril à septembre), le vendredi de 17h à 19h.
Expositions à la chapelle St Andéol, toute l'année.
Fête du Plan de Dieu : balade gourmande et fête des vins, 2ème week-end d'avril
Fête votive, 1er week-end de juin.
Foire artisanale, mi-mai.
Ronde des soupes, fin novembre.