Cabannes - Holiday rentals Provence
Cabannes, small town between country of Avignon, Luberon and Alpilles
J'inscris ma location sur Luberonweb
Holiday rentals, gites, guest rooms, hotels, campgrounds in Cabannes
Tourism information on Cabannes
See the Luberon Map

See tourist information of this village
---
No accommodation has been found in this village ! We propose you offers near by :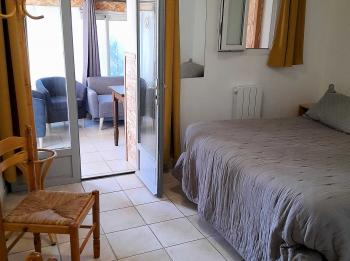 Lodging with pool in the Luberon
Lodging Pool - Lagnes - Gite Luberon - Luberon Provence
from 385 € to 595 € per week (depend. season)
for 2/3 person(s)

Bed & Breakfast and meals in the Luberon
Guest rooms Pool - Lagnes - Chez Cécile - Luberon Provence
from 80 € to 120 € per day (depend. season)
3 room(s)
Check out our Top 20 Holiday rentals, Cottages, Hotels, Inns, Camping
Cabannes, a large village, near Cavaillon, on the west bank of the Durance
Village d'environ 4.500 habitants
Historique :
Cabannes doit son nom aux cabanes qui servirent jadis d'habitations (Les premiers habitants de Cabannes étaient des Liguriens cultivateurs qui vivaient dans des maison lacustres nomées "cabs" au 16ème siècle avant J.C.).
Mentionné "Locus de Cabannis" en 939.
Paroisse dès le 12ème siècle.
La seigneurie de Cabannes appartenait aux Raimond-Béranger auxquels succédèrent les Gantelme (14ème siècle), elle fut acquise par les Pontevès qui la conservèrent jusqu'au 17ème siècle, puis passa aux Rolland et fut érigée en marquisat (1680) en faveur de Claude de Rolland, président de la Cour des Comptes.
Cabannes eut à souffrir à plusieurs reprises des ravages des guerres, des épidémies et des calamités naturelles.
Présentation :
Cabannes est une petite ville de la riche plaine agricole de la Durance.
Rive de la Durance.
Courses de taureaux.
Plan d'eau.
Petit train touristique.
Proche d'Avignon.
Proximité des Alpilles et du Luberon.
Chemins de randonnée.
Situation géographique :
Cabannes se situe au carrefour du Pays d'Avignon, des Alpilles et du Luberon, une situation géographique idéale pour vos vacances, qui vous permettra de visiter ces trois superbes régions provençales.
Curiosités touristiques :
Vestiges de monument romain sur lequel a été contruite l'église Sainte-Madeleine.
Ruines féodales (porte de l'ancien château).
Quelques belles maisons bourgeoises des 18ème et 19ème siècles.
Eglise Sainte-Magdeleine, en partie romane du 13ème siècle, agrandie en 1874 : clocher du 14ème, chapelles seigneuriales 17ème et 18ème, 2 chapiteaux corinthiens antiques.
Chapelle Saint-Michel, romane du 12ème siècle, au cimetière : fresque de la Sainte-Trinité.
Oratoires Sainte-Madeleine, Saint-Roch, Saint-Alphonse, de La Sainte.
Marchés, fêtes, foires et Festivals :
Marché les mardi et samedi.
Marché aux Puces le 2ème samedi de chaque mois.
Fête votive de la sainte Madeleine le dernier dimanche de juillet.
Nuit du Blues, début juillet.