Bollene. Holiday rental Provence
Bollene, little city in the Vaucluse, near the Drome, the region Ardeche and Gard. (Provence - South France)
J'inscris ma location sur Luberonweb
Holiday rentals, gites, guest rooms, hotels, campgrounds in Bollene
Tourism information on Bollene
See the Provence Map

See tourist information of this village
---
No accommodation has been found in this village ! We propose you offers near by :
L'Oustaou des Valayans - Pernes-les-Fontaines (Vaucluse - Comtat Venaissin)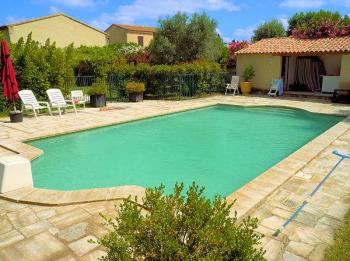 Villa with pool in Provence
Holiday villa pool - Pernes-les-Fontaines - L'Oustaou des Valayans - Luberon Provence
from 1.100 € to 1.600 € per week (depend. season)
for 5/6 person(s)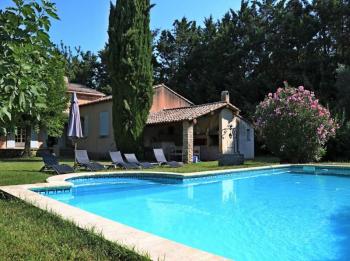 Holiday villa with pool in Provence
Holiday villa pool - Althen-des-Paluds - Mas du Blancas - Luberon Provence
from 1.200 € to 2.300 € per week (depend. season)
for 6/9 person(s)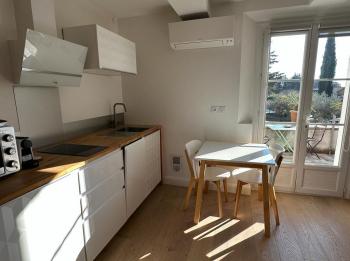 Stopover gite for 2 people in the Provence of the Popes
Stopover gite - Pernes-les-Fontaines - Gîte de Baptiste - Luberon Provence
from 45 € to 60 € per day (depend. season)
for 2/3 person(s)
Check out our Top 20 Holiday rentals, Cottages, Hotels, Inns, Camping
Bollène, a small town rich in history, located in the northern Vaucluse
Ville d'environ 15.000 habitants
Historique :
Co-seigneurie formée de la réunion des quatre fiefs : Barry, Bauzon, Chabrières et du prieuré Saint-Martin (fondation bénédictine), elle appartenait à la fois au prieur (collège Saint-Nicolas à partir du 15ème) et aux différents souverains du Comtat, dont le Saint-Siège.
Communauté indépendante, de 1266 au 18ème.
Incursions dévastatrices des Routiers au 14ème.
En 1562, le baron des Adrets s'empara de la ville, elle fut reprise aux calvinistes en 1563.
Visites de Catherine de Médicis et de Charles IX en 1564, du duc de Berry.
Présentation :
Bollène est une ancienne cité au riche patrimoine historique de la plaine du Rhône, étagée à flanc de coteau, et surplombée par le magnifique village médiéval de Barry.
Proximité de l'axe de circulation de l'autoroute A7.
Piscine Municipale.
Plan d'eau : pêche, planche à voile, sports nautiques.
Hippodrome.
Circuits VTT, randonnées
Situation géographique :
Bollène, est située au Nord du Comtat Venaissin (15 km de la ville d'Orange, 50 km d'Avignon, la cité des Papes), en frontière avec la Drôme Provençale, le Gard et l'Ardèche. Une situation géographique idéale pour vos vacances !
Curiosités touristiques :
Traces d'occupation néolithique et romaine.
Passage de la voie Agrippa : vestiges gallo-romains à Saint-Pierre-de-Sénos (sarcophages), à Barry et Noyères.
Hôtel de ville de 1887 néo-Renaissance.
Remparts du 13ème/14ème.
Hôpital, ancien couvent des Ursulines du 17ème.
Beaux hôtels particuliers des 16ème, 17ème et 18ème.
Maison Cardinale du 14ème.
Maison de la Tour, aménagée au 16ème, qui servait de résidence au Bayle du comte de Toulouse.
Vieux pont reconstruit au 17ème et au 18ème.
Village troglodytique au flanc de la falaise.
A Saint-Blaise, château de Bauzon.
Château de Gourdon.
Ancienne collégiale Saint-Martin du 10ème, rebâtie aux 12ème et 16ème.
Eglise paroissiale Saint-Martin du 18ème/19ème, néo-classique.
Chapelle Notre-Dame-du-Pont du 15ème.
Chapelle des Trois-Croix (Notre-Dame-du-Mont-Calvaire) du 17ème.
Chapelle du couvent de l'ordre du Saint-Sacrementdu du 18ème : tour hexagonale et campanile.
Chapelle Saint-Blaise du 12ème fortifiée, à Bauzon.
Chapelle Saint-Ferréol.
Chapelle Saint-Ariès du 11ème, agrandie au 16ème.
Chapelle Notre-Dame-de-l'Espérance de 1706, à Barry, en partie troglodytique.
Musées :
Musée Pasteur à la chapelle des Trois-Croix : monnaies, peintures.
Hôtel de ville : oeuvres du sculpteur bollénois Charpentier.
Marchés, fêtes et Festivals :
Marché le lundi matin.
Petit Marché primeur le samedi matin.
Foire le week-end du 11 novembre.
Fête votive le 1er dimanche de juillet.
Festival des Polymusicales, de la mi-juillet à la mi-août.
Fêtes du Papegaï le 4ème samedi de juin (fête costumée 17ème).
Fête provençale le 1er dimanche de septembre.
Salon de Noël.