Beaumont-de-Pertuis. Holiday rental Luberon
Beaumont-de-Pertuis, a village in southern Luberon (Provence)
J'inscris ma location sur Luberonweb
Holiday rentals, gites, guest rooms, hotels, campgrounds in Beaumont-de-Pertuis
Tourism information on Beaumont-de-Pertuis
See the Luberon Map

See tourist information of this village
---
No accommodation has been found in this village ! We propose you offers near by :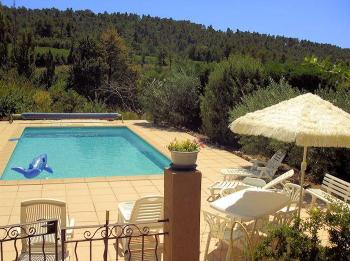 Hire with swimming pool in the southern Luberon
Vacation rental pool - La Bastide des Jourdans - Villa Longues Terres - Luberon Provence
from 1.300 € to 1.500 € per week (depend. season)
for 5/6 person(s)
Check out our Top 20 Holiday rentals, Cottages, Hotels, Inns, Camping
Beaumont-de-Pertuis, beautiful village in the southern Luberon
Village d'environ 1.100 habitants
Historique :
Mentionné en 1084 : "Bello Monte".
Seigneurie, qui relevait de Forcalquier, eut de nombreux tenants : au 15ème, la terre passa des Boulier aux d'Agoult, en 1635, on trouve les Riquetti, seigneurs de Mirabeau, en faveur de qui elle fut érigée en comté en 1713.
De nombreux séismes secouèrent Beaumont-de-Pertuis : 1708, 1812, 1838 et 1841.
Présentation :
Beaumont-de-Pertuis en Luberon est un magnifique village perché, groupé autour d'un clocher carré.
Nombreux sentiers de randonnées dans le Luberon.
Situation géographique :
Beaumont-de-Pertuis est situé dans le Sud-Est du Luberon.
Curiosités touristiques :
Habitat préhistorique dans les grottes de la falaise Saint-Eucher.
Oppidum de Montmartre (mont de Mars).
Vestiges d'une enceinte elliptique : trois tours rondes du 16 ème siècle.
Ancien moulin à vent aux Hautes-Croix.
Moulin à eau fin du 18ème.
Eglise paroissiale Saint-Jean-Baptiste.
Chapelle rupestre Saint-Eucher du 12ème.
Chapelle Notre-Dame-de-Beauvoir.
Chapelle Sainte-Croix romane.
Marchés, fêtes, foires et Festivals :
Marché le samedi.
Fête communale le 1er dimanche de mai.
Fête patronale le dernier dimanche d'août.
Pèlerinage à l'ermitage Saint-Eucher le lundi de Pentecôte.