Althen-des-Paluds - Holiday rentals in Provence
Althen-des-Paluds, charming village in the Comtat Venaissin, in Provence
J'inscris ma location sur Luberonweb
Holiday rentals, gites, guest rooms, hotels, campgrounds in Althen-des-Paluds
Tourism information on Althen-des-Paluds
See the Provence Map

See tourist information of this village
---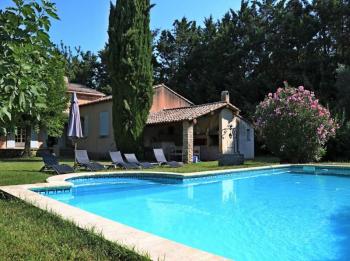 Holiday villa with pool in Provence
Holiday villa pool - Althen des Paluds - Mas du Blancas - Luberon Provence
from 1.000 € to 2.200 € per week (depend. season)
for 6/9 person(s)
We propose you also nearby :
L'Oustaou des Valayans - Pernes-les-Fontaines (Vaucluse - Comtat Venaissin)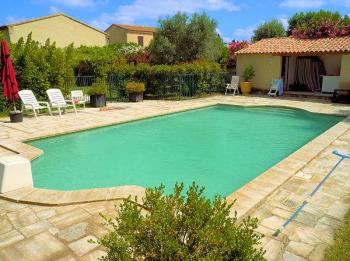 Villa with pool in Provence
Holiday villa pool - Pernes-les-Fontaines - L'Oustaou des Valayans - Luberon Provence
from 1.100 € to 1.600 € per week (depend. season)
for 5/6 person(s)
Check out our Top 20 Holiday rentals, Cottages, Hotels, Inns, Camping
Althen-des-Paluds, village along the river Sorgue, in the Vaucluse
Village d'environ 2.750 habitants
Historique :
Le nom d'Althen des Paluds est un hommage à Jean Althen. Arménien réduit en esclavage en Turquie. Jean Althen fut sauvé et vint en Avignon en 1756 et participa à l'amélioration de la culture de la garance (plante vivace cultivée pour la teinture rouge extraite de ses racines).
"Paluds", associé au non de Jean Althen, signifie "terres marécageuses". En effet, les deux bras de la Sorgue encerclent Althen des Paluds qui resta marécageuse jusqu'au Moyen Âge (les premières édifications de digues furent comencées lors de l'occupation romaine).
La commune d'Althen des Paluds fut officialisée le 5 juin 1845 à la suite d'une ordonnance royale.
Présentation :
Althen des Paluds est un des plus beaux village du Comtat Venaissin.
Capitale historique de la culture de la garance.
Promenade au bord de la Sorgue.
Nombreuses randonnées.
Proximité d'Avignon, et du mont Ventoux.
Situation géographique :
Althen des Paluds est idéalement situé au centre du Comtat Venaissin, entre Pays d'Avignon et région du Ventoux. Un lieu de vacances parfait pour la visite de la Provence des Papes.
Situer le Comtat Venaissin sur la Carte de la Provence
Curiosités touristiques :
Eglise de l'Assomption du 19ème siècle.
Ancienne chapelle avec campanile du 18ème siècle (Mairie).
Moulin de la Roque.
Quartier Saint-Albergaty.
Marchés, fêtes et Festivals :
Marché de Noël.
Fête votive, fin juillet.
Journée Arméniene, mi-août.