Allemagne-en-Provence - Holidays Provence
Allemagne-en-Provence, beautiful little village of the Verdon
J'inscris ma location sur Luberonweb
Holiday rentals, gites, guest rooms, hotels, campgrounds in Allemagne-en-Provence
Tourism information on Allemagne-en-Provence
See the Provence Map

See tourist information of this village
---
No accommodation has been found in this village ! We propose you offers near by :
Campagne en pleine Provence - Fox-Amphoux (Var - Gorges du Verdon)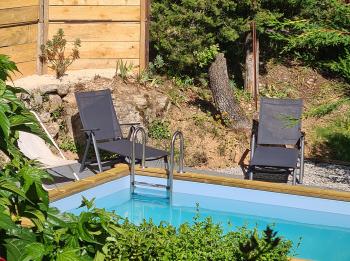 Charming cottage for 6 to 8 people in the Haut Var
Large gite - Fox-Amphoux - Campagne en pleine Provence - Haut-Var Provence
from 700 € to 1.200 € per week (depend. season)
for 6/9 person(s)
Check out our Top 20 Holiday rentals, Cottages, Hotels, Inns, Camping
Allemagne-en-Provence on the road of Gréoux-les-Bains and the Gorges du Verdon
© Luberonweb
Allemagne-en-Provence, village in the Verdon country, with a beautiful castle. Allemagne-en-Provence is near the Lakes and the Gorges du Verdon
Village d'environ 500 habitants
Historique :
Le Nom de la commune apparaît pour la première fois dans les textes en 429.
L'étymologie d'Allemagne-en-Provence selon les spécialistes, qui relèvent la forme Alamania en 1182, est indiscutablement formé sur celui de l'ethnie des Alamans, perpétuant ainsi le souvenir d'une colonie installée avant les grandes invasions barbares.
L'étymologie d'Allemagne-en-Provence n'est donc pas liée, comme certains pourraient le penser, à une récente époque de notre histoire.
La seigneurie d'Allemagne a appartenu aux Castellane du 13ème (1218) au 15ème siècle, puis aux Oraison, pour enfin être cédée en 1718 à Jean-Baptiste de Varages, secrétaire du roi près la Cour des comptes de Marseille.
Présentation :
Allemagne-en-Provence est magnifique petit village du pays du Verdon.
Proximité des gorges du Verdon et des lacs de sainte-Croix et d'Esparron.
Proximité de la station termale de Gréoux-les-bains.
Proximité du Luberon.
Superbe château et son parc.
Situation géographique :
Allemagne-en-Provence est situé sur la D952 entre Gréoux-les-Bains et Riez.
Curiosités touristiques :
Château d'Allemagne-en-Provence, classé aux Monuments Historiques, composé d'une partie médiévale à l'est (donjon de la fin du 14ème siècle), d'une partie Renaissance (16ème siècle) et d'un superbe parc (site classé).
Très belles maisons du 17ème siècle dans le village.
Eglise Saint-Marc du 16ème siecle.
Marchés, fêtes et Festivals :
Marché le jeudi matin.
Fête communale de la Saint Marc, fin avril avec pèlerinage traditionnel à la chapelle.