Alleins. Holiday rental Provence
Alleins at the border of the Alpilles and Luberon
J'inscris ma location sur Luberonweb
Holiday rentals, gites, guest rooms, hotels, campgrounds in Alleins
Tourism information on Alleins
See the Provence Map

See tourist information of this village
---
No accommodation has been found in this village ! We propose you offers near by :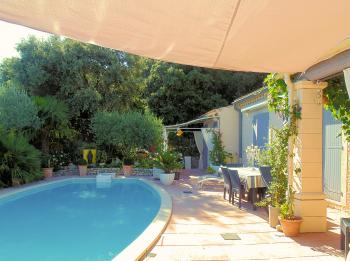 Bed & breakfast in Provence in a villa with pool
Guest room pool - Merindol - La Cigalière - Luberon Provence
110 € per day (depend. season)
1 room(s)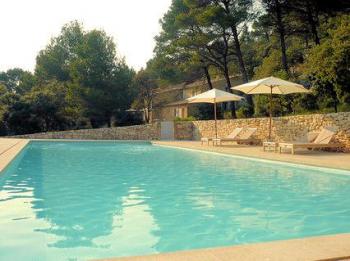 Luxury property for your holidays in Provence
Luxury holiday rental - Merindol - Le Pardigaou - Luberon Provence
from 1.500 € to 4.800 € per week (depend. season)
for 6/9 person(s)
Check out our Top 20 Holiday rentals, Cottages, Hotels, Inns, Camping
Alleins between the country of Aix, Alpilles and Luberon
Village d'environ 2.400 habitants
Historique :
Cité "Alenii Castrum" au 10ème siècle.
Propriété des évêques de Marseille au 13ème, passé au 15ème à Jacques Renaud, et par succession jusqu'à la Révolution.
Le château fut édifié au 14ème.
Présentation :
Alleins est un village pittoresque, surélevé au-dessus de la riche plaine de la Durance.
Panorama sur la plaine de la Crau et les Alpilles, le Luberon et la Durance.
Canal de Craponne.
Grottes de Vaucros et de la Chèvre d'Or.
Proximité du Golf de Pont-Royal.
Situation géographique :
Alleins est situé au nord du Pays d'Aix en Provence, en frontière avec le Luberon, la Crau et les Alpilles.
Situer le Pays d'Aix-en-Provence sur la Carte de la Provence
Curiosités touristiques :
Vestiges néolithiques au quartier de Sainte-Anne et au quartier de Collongue.
Sites de l'Âge du Bronze à La Coste et à l'Argelier.
Vestiges de bas-reliefs du 1er siècle sur la porte de ville et la chapelle du cimetière.
Ruines des remparts du 16ème et du château du 15ème.
Tour Vieille au sud-ouest.
Fontaines, moulins, beaux porches en pierre de Rognes.
Moulin à vent 17ème, ruiné.
Moulin à eau Saint-Paul du 18ème.
Chapelle Saint-Pierre-ès-Liens romane.
Chapelle Notre-Dame-de-Pitié des Pénitents Blancs fin 16 ème.
Oratoire dans le cimetière.
Calvaire avec croix en fer forgé.
Ruines de la chapelle Saint-Georges et de la chapelle Saint-Jean romane.
Marchés, fêtes et Festivals :
Marché le mardi.
Foire artisanale et artistique fin mai et fin novembre.
Fête patronale et communale (saint Pierre-ès-Liens) le 1er dimanche d'août (exposition d'artisanat d'art).