Volx - Holiday rentals Provence
Volx, Village east of the Luberon, in the Alpes-de-Haute-Provence
J'inscris ma location sur Luberonweb Subscribe to our RSS feed
Holiday rentals, gites, guest rooms, hotels, campgrounds in Volx
Tourism information on Volx
See the Luberon Map

See tourist information of this village
---
No accommodation has been found in this village ! We propose you offers near by :

Authentic Provencal farmhouse with pool in Provence
Farmhouse pool - Oraison - Le Mas de Theo - Luberon Provence
from 1.800 € to 2.500 € per week (depend. season)
for 7/8 person(s)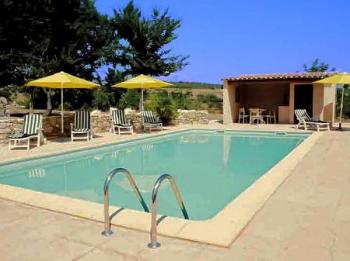 Rural gite with pool in the Alpes de Haute Provence
Rural Lodging pool - Pierrerue - Gite Coquelicot - Luberon Provence
from 1.100 € to 1.650 € per week (depend. season)
for 6 person(s)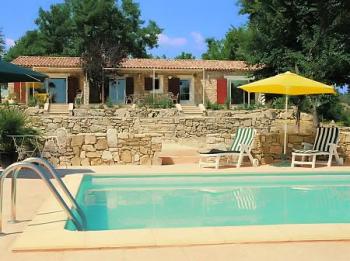 Cottage with pool for 2/4 persons in Provence
Rural Lodging pool - Pierrerue - Gite Tournesol - Luberon Provence
from 350 € to 850 € per week (depend. season)
for 2/4 person(s)
Check out our Top 20 Holiday rentals, Cottages, Hotels, Inns, Camping
Volx
Ville d'environ 3.000 habitants
Historique :
Un monastère y fut fondé en 812.
Seigneurie des Villemus au 13ème siècle, des Valavoire du 15ème au 17ème en faveur de qui elle fut érigée en marquisat, puis des d'Amat au 18ème.
Après les ravages du 14ème siècle, une partie des habitants de Volx émigra sur une hauteur voisine pour y fonder le village de La Roche-Amère qui s'est déplacé par la suite pour former celui de Villeneuve.
Durant la Révolution, le château de Volx fut est incendié et détruit.
Présentation :
Volx est un village du Luberon étagé sur le versant Ouest de la Durance.Volx abrite la délégation nationale FranceAgriMer chargé entre autres de la filière PPAM (plantes à parfum, aromatiques et médicinales).
Nombreux sentiers de randonnées dans le Luberon.
Nombreuses voies d'escalade, dont certaines sont parmi les plus dures de France (Zelig, ...).
Situation géographique :
Volx est situé au pied du versant sud du Luberon oriental, dans les Alpes-de-Haute-Provence, entre Durance et Luberon. Les villes et villages avoisinants sont : Manosque, au Sud, Saint-Martin-les-Eaux à l'Ouest, Dauphin, Saint-Maime et Villeneuve au Nord. La situation géographique de Volx, vous permettra, pendant vos vacances, de visiter le Luberon Nord et Sud, une fois passé la Durance vous trouverez les Gorges du Verdon, et le Haut- Var, et, grâce à l'autoroute A51 (qui longe la Durance), les Alpes du sud (Pays de Digne-les-Bains & Haut-Verdon), vers le Nord, et le Pays d'Aix-en-Provence, en direction du Sud.
Curiosités touristiques :
Restes d'un temple avec autel voué à la déesse Victoire.
Statue d'Eros en bronze gallo-romaine.
Restes du château du 12ème/13ème siècle : murs, porte, tour à gargouilles, ...
Arches d'un aqueduc qui alimentait le château.
Château Saint-Clément du 16ème siècle.
Quelques vestiges du château de Montaigut et un beau pigeonnier (très abimé).
Eglise Sainte-Victoire de 1776 à 2 nefs, avec un clocher à campanile sphéroïde du 17ème et sa cloche du 16ème. Autel en bois dor é, toiles du 19ème.
3 oratoires.
Musées :
Ecomusée du Savon : historique du savon, machines, moules, procédés de fabrication.
Ecomusée de l'Olivier : découverte de la civilisation de l'Olivier.
Marchés, fêtes, foires et Festivals :
Marché le mardi.
Fête patronale le dernier dimanche d'avrril (sainte Victoire).
Fête des vendanges le 1er dimanche d'octobre.
Procession des Moussis le dimanche suivant le 24 avril.