Senas - Holiday rentals Provence
Senas, small town between Luberon and Alpilles
J'inscris ma location sur Luberonweb Subscribe to our RSS feed
Holiday rentals, gites, guest rooms, hotels, campgrounds in Senas
Tourism information on Senas
See the Luberon Map

See tourist information of this village
---
No accommodation has been found in this village ! We propose you offers near by :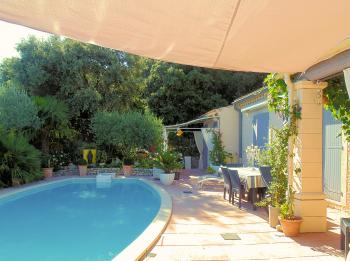 Bed & breakfast in Provence in a villa with pool
Guest room pool - Mérindol - La Cigalière - Luberon Provence
85 € per day (depend. season)
1 room(s)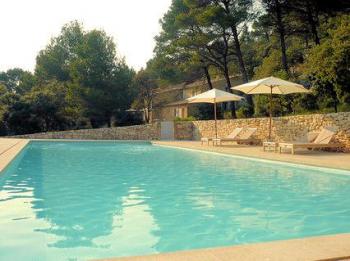 Luxury property for your holidays in Provence
Luxury holiday rental - Merindol - Le Pardigaou - Luberon Provence
from 1.500 € to 4.800 € per week (depend. season)
for 8 person(s)

Holiday cottage with pool for 2 people in Mérindol
Gite pool - Mérindol - Chalet Régalon - Luberon Provence
550 € per week (depend. season)
for 2 person(s)
Check out our Top 20 Holiday rentals, Cottages, Hotels, Inns, Camping
Senas
Ville d'environ 6.500 habitants
Historique :
Cité "Senatium" au 11ème siècle.
Dès le 11 ème siècle un château fort qui percevait un péage existait sur un rocher dominant le bourg (d'où son nom de Péagère du Roucas).
Un bac permettant de traverser la Durance est attesté en 1512.
Baronnie relevant successivement des Porcellet, des d'Arcussia, des Jarente pour qui elle fut érigée en marquisat en 1642, celui-ci fut vendu à Benault de Lubières d'Albe au 18ème siècle.
Le beau château Renaissance fut détruit à la Révolution.
Présentation :
Sénas est une charmante petite ville de plaine créée au 16ème siècle s'allongeant le long de la RN7.
Collines de la Cabre et de Pécoule.
Rive de la Durance (pêche).
Canal des Alpilles.
Parc et jardin public.
Promenades et sentiers de randonnées pédestres et équestres, VTT.
Proche du Golf de Pont-Royal.
Proximité du Luberon et des Alpilles.
Situation géographique :
Sénas, petite ville de la plaine agricole de la Durance, située au sud du Luberon et à l'Est des Alpilles. La proximité de l'autoroute A7 vous permettra, pendant vos vacances de visiter l'ensemble de la Provence.
Curiosités touristiques :
Habitat du Montadien (Préhistoire, Épipaléolithique provençal) découvert au lieu-dit la Montagne (industrie et faune abondantes).
8 stèles anthropomorphes chalcolithiques découvertes au quartier de La Péagère du Rocher (musée Calvet à Avignon).
Ruines de l'ancien château de La Péagère-du-Rocher du 13ème/14ème siècle, sur un éperon rocheux au nord/ouest.
Pont ancien en dos d'âne, dit "romain".
Eglise Saint-Amand des 12ème, 14ème et 16ème siècles (Inscrit aux Monuments Historiques) : bas-côté roman provençal (nef primitive), nef et abside gothiques, flèche octogonale à crochets du 14ème siècle. 5 statuettes en marbre du 16ème (le Christ et les Evangélistes).
Chapelle Notre-Dame-de-Bon-Voyage du 18ème, dans le village.
Oratoire Sainte-Anne du 19ème siècle.
Musée :
Musée d'art contemporain.
Marchés, fêtes, foires et Festivals :
Marché le jeudi.
Marché paysan quotidien du 1er juin au 30 septembre.
Fête votive de la Saint-Amand fin août.
Fête de la transhumance en avril.
Fête de la vigne et du vin en mai.
Marché artisanal en juin.
Ferrade en juin.
Défilé de la Saint-Amanet fin septembre.
Marché de Noël artisanal, fin novembre.
Foire le 2ème mardi de juin et le dernier mardi d'octobre.
Fête communale, le dernier dimanche d'août.