Saint-Remy-de-Provence - Holidays Provence Alpilles
Saint-Remy-de-Provence, capital of the Alpilles in Provence
J'inscris ma location sur Luberonweb Subscribe to our RSS feed
Holiday rentals, gites, guest rooms, hotels, campgrounds in Saint-Remy-de-Provence
Tourism information on Saint-Remy-de-Provence
See the Provence Map

See tourist information of this village
---
No accommodation has been found in this village ! We propose you offers near by :

Gite for 6 persons in Cavaillon in the Luberon
Gite - Cavaillon - L'Oustau di Fredo - Luberon Provence
from 400 € to 650 € per week (depend. season)
for 6 person(s)
Check out our Top 20 Holiday rentals, Cottages, Hotels, Inns, Camping
Saint-Remy-de-Provence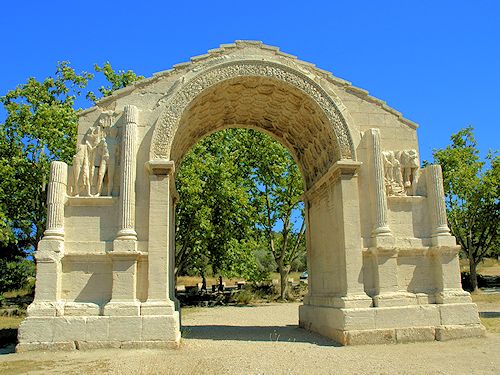 © Luberonweb
Ville d'environ 11.000 habitants
Historique :
Saint-Rémy-de-Provence est une petite ville au riche passé historique, bâtie sur l'un des plus anciens sites archéologiques d'Europe (premier millénaire avant notre ère) : les vestiges du Comptoir de Glanum, fondé au troisième siècle avant JC, puis aménagé en cité gallo-romaine par les romains sous Jules César.
Présentation :
Saint-Rémy-de-Provence est une petite ville, pleine de charme, typiquement provençale, située en plein coeur des Alpilles.
Belles demeures restaurées avec goût.
Ruelles anciennes au charme provençal.
Canal des Alpilles qui traverse la ville.
Capitale artistique de la Provence qui inspira de nombreux artistes, écrivains et peintres, dont le plus célèbre d'entre eux fut Van Gogh qui y peignit plus de 150 toiles.
Aérodrome de Romanin.
Piscine Municipale.
Nombreux commerces (ouverts le dimanche en saison), cafés et restaurants.
Situation géographique :
Saint-Rémy-de-Provence est située au coeur des Alpilles, une destination de vacances idéale pour visiter la Provence : Alpilles, pays d'Avignon, Luberon, Crau et Camargue, ...
Autres curiosités touristiques :
Collégiale Saint-Martin.
Monastère Saint-Paul-de-Mausole.
Chapelle Notre-Dame de Pitié.
Chapelle Saint-Roch.
Cimetière juif de Saint-Rémy-de-Provence, du 15ème siècle.
Fontaine Nostradamus.
Hôpital Saint-Jacques-de-Compostelle, du 17ème.
Site archéologique de Glanum, site de ruines romaines.
Le mont Gaussier, massif des Alpilles qui domine le site de Glanum.
Hôtel Estrine, du 18ème siècle (musée).
Hôtel de Sade du 15ème siècle.
Hôtel de Lagoy, du 10ème siècle, rebâti au 17ème (maison de l'Amandier).
Hôtel d'Almeran.
Musées :
Musée des Alpilles.
Musée Estrine, Centre d'interprétation Van Gogh.
Donation Mario Prassinos à la chapelle Notre Dame de Pitié.
La maison de l'Amandier.
Marchés, fêtes et Festivals :
Marché le mercredi.
Fête de la Transhumance, une des plus belles fêtes traditionnelles de Provence, à la Pentecôte.
Le Carnaval de Saint-Rémy-de-Provence, fin mars.
La Fête du Vin et de l'Artisanat d'Art, le dernier week-end de juillet.
Festival de la B.O, festival de musique à vocation caritative.
Festival APART, art contemporain, en été.
Festival Organa, festival musical d'Orgues, en été, à la Collégiale St Martin.
La Feria de St Rémy, manifestations taurines, le week-end du 15 août.
Festival de Jazz en septembre.
Fête votive avec défilé des habitants en habits provençaux, fin septembre.
Fête de la lumière en décembre.
Petit Marché du Gros Souper à Noël.