Saint-Martin-de-Bromes - Holidays Provence
Saint-Martin-de-Bromes, medieval village of Haute-Provence
J'inscris ma location sur Luberonweb Subscribe to our RSS feed
Holiday rentals, gites, guest rooms, hotels, campgrounds in Saint-Martin-de-Bromes
Tourism information on Saint-Martin-de-Bromes
See the Provence Map

See tourist information of this village
---
No accommodation has been found in this village ! We propose you offers near by :

Authentic Provencal farmhouse with pool in Provence
Farmhouse pool - Oraison - Le Mas de Theo - Luberon Provence
from 1.000 € to 2.300 € per week (depend. season)
for 7/8 person(s)
Check out our Top 20 Holiday rentals, Cottages, Hotels, Inns, Camping
Saint-Martin-de-Bromes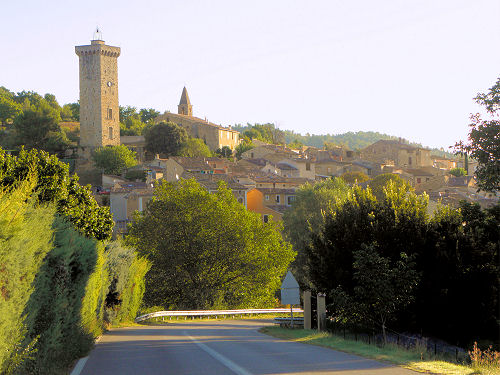 © Luberonweb
Ville d'environ 500 habitants
Historique :
L'oppidum de Buffe-Arnaud atteste de l'occupation du territoire de la commune depuis l'antiquité.
Des fouilles ont également mises à jour de nombreuses traces de l'occupation romaine.
Saint-Martin-de-Brômes fut une seigneurie appartenant à la famille des Castellane du début 13ème à la fin du 17ème siècle, puis des Payan jusqu'à la Révolution.
Présentation :
Saint-Martin-de-Brômes est un très beau petit village typiquement provençal, au riche passé historique.
Vieux village médiéval, plein de charme : grande place avec platanes, ruelles, ...
Proximité du Verdon, des lacs de Sainte-Croix et d'Esparron.
Proximité de la ville thermale de Gréoux-les-Bains, de Manosque et du Luberon.
Nombreux circuits de randonnée : passage du GR4 qui traverse le Parc Naturel Régional du Verdon.
Cicuit vtt de 39 km.
Pêche sur les bords du Colostre.
Centre équestre.
Situation géographique :
Saint-Martin-de-Brômes se situe entre Gréoux-les-Bains et Allemagne-en-Provence, sur la D952 qui relie Saint-Paul-lès-Durance à Castellane.
Une étape s'impose lors de vos vacances en Provence !
Curiosités touristiques :
Tour de l'Horloge à machicoulis du 13ème siècle, de 24,5 mètres de haut.
Maisons des 15ème et 16ème siècles.
Pont du 17ème siècle, sur l'affluent du Colostre, à 1,5 km du village en direction d'Allemagne.
Eglise paroissiale du 12ème siècle, agrandie au 14ème siècle, classée monument historique.
Lavoir.
Fontaines, dont une fontaine à bulbe recouverte d'une épaisse cape moussue.
Cimetière mérovingien au ravin de Pinet.
Musée :
Musée archéologique, recèle deux tombeaux du 4ème siècle dont un comprenait un sarcophage de plomb, mis au jour en 1972 lors des travaux sur la RD 952.
Marchés, fêtes et Festivals :
Fête de la lavande, le week-end avant le 15 août.