Moustiers-sainte-Marie - Holidays rentals Provence
Moustiers-sainte-Marie, classified village of the Gorges du Verdon
J'inscris ma location sur Luberonweb Subscribe to our RSS feed
Holiday rentals, gites, guest rooms, hotels, campgrounds in Moustiers-sainte-Marie
Tourism information on Moustiers-sainte-Marie
See the Provence Map

See tourist information of this village
---
No accommodation has been found in this village ! We propose you offers near by :

Authentic Provencal farmhouse with pool in Provence
Farmhouse pool - Oraison - Le Mas de Theo - Luberon Provence
from 1.000 € to 2.300 € per week (depend. season)
for 7/8 person(s)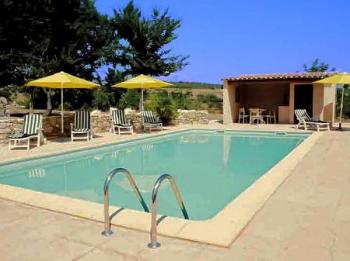 Rural gite with pool in the Alpes de Haute Provence
Rural Lodging pool - Pierrerue - Gite Coquelicot - Luberon Provence
from 1.100 € to 1.650 € per week (depend. season)
for 6 person(s)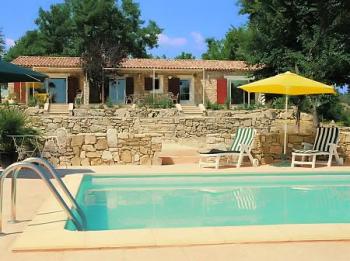 Cottage with pool for 2/4 persons in Provence
Rural Lodging pool - Pierrerue - Gite Tournesol - Luberon Provence
from 350 € to 850 € per week (depend. season)
for 2/4 person(s)
Check out our Top 20 Holiday rentals, Cottages, Hotels, Inns, Camping
Moustiers-sainte-Marie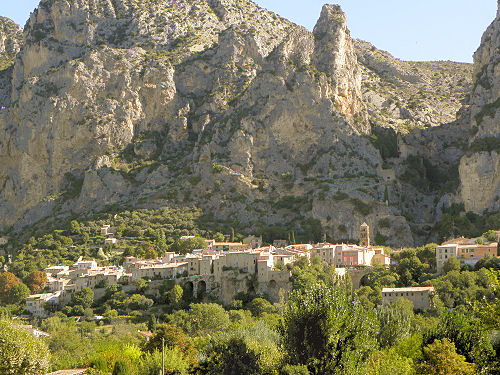 © Luberonweb
Ville d'environ 750 habitants
Historique :
Vers l'an 300, la cité romaine de Rietz devient un évêché et prit alors le nom de "Moustiers" du latin "monasterium" avec un "s" en plus indiquant que plusieurs monastères y étaient installés. En effet, des moines venus des îles de Lerins pour évangéliser la contrée élirent domicile dans les grottes de Tuf de Saint-Maurin à proximité de la cité. Ils défrichèrent le terrain, aidés des paysans qui constituèrent la première communauté villageoise. Des sanctuaires troglodytiques furent ainsi créés. Plus tard, cette communauté fut régulièrement attaquée et pillée, successivement par les Francs, les Wisigoths, les Vikings puis les Sarrasins au 9ème siècle.
Le Nom du lieu se transforma officiellement en Moustiers-Sainte-Marie en 1848.
Moustiers-Sainte-Marie fut le siège, jusqu'à la Révolution française, d'une viguerie (juridiction administrative médiévale) et d'une importante foire commerciale régionale.
Moustiers-Sainte-Marie connaît, depuis le 17ème siècle, une grande renommée grâce à ses faïences.
Le village est dominé par deux hautes falaises entre lesquelles coule un torrent, le Riou. Ces deux falaises sont reliées entre elles par une chaîne de fer forgé, longue de 227 mètres à laquelle est suspendue une étoile dorée. Selon Frédéric Mistral, cette chaîne aurait été scellée entre les deux rocs sur l'initiative du chevalier de Blacas de retour de la croisade. Prisonnier des Infidèles à Damiette (Syrie), il avait fait le vœu, le jour où il serait libéré, de tendre cette chaîne et d'y suspendre l'étoile à seize branches, emblème de sa famille.
Présentation :
Moustiers-Sainte-Marie, situé aux pieds de falaise impressionantes, dans un site somptueux, est un village classé parmi "les beaux villages de France".
Moustiers-Sainte-Marie est la capitale provençale de la faïence.
Nombreuses promenades et circuits de randonnée.
Sentier botanique de Tréguier.
Panorama sur la vallée de la Maire et le plateau de Valensole depuis la chapelle Notre-Dame-de-Beauvoir.
Proximité du Lac de Sainte Croix et du Verdon.
Visites des ateliers de Faïence.
Visite guidée du village.
Relais gastronomique (grand chef Alain Ducasse).
Sports nautiques, mais aussi parapente, vtt, escalade, ...
Situation géographique :
Moustiers-Sainte-Marie est situé au Nord des Gorges du Verdon. Moustiers-Sainte-Marie est accessible par la D952 (route qui relie Saint-Paul-lès-Durance à Castellane).
Une visite incontournable lors de vos vacances en Provence !
Curiosités touristiques :
Le vieux village, ses ruelles, calades et placettes.
Restes des remparts du 15ème siècle.
Eglise paroissiale Notre-Dame du 14ème siècle, classée monument historique dès 1913.
Chapelle Saint-Jean.
Chapelle au Clastre, gothique des 13/15ème siècles.
La Chapelle Notre Dame de Beauvoir.
L'Aqueduc, enjambant l'Adou.
La Chapelle Sainte-Anne.
Nombreuses fontaines.
L'étoile de Moustiers suspendue à 250 mètres au-dessus du vide.
Musées :
Le musée archéologique, fondé en 1930.
Le musée des faïences.
Marchés, fêtes et Festivals :
Marché provençal tous les vendredis matin.
Marché artisanal nocturne les mercredi soirs en juillet et août.
Festival des Floraisons musicales tout le mois d'août.
Fête patronale de Notre-Dame de Beauvoir, fin août, début septembe.
Rencontres Céramique de Moustiers, fin septembre.