Meyrargues - Holiday rentals Luberon
Meyrargues, historic village in South Luberon, in the Bouches-du-Rhone
J'inscris ma location sur Luberonweb Subscribe to our RSS feed
Holiday rentals, gites, guest rooms, hotels, campgrounds in Meyrargues
Tourism information on Meyrargues
See the Luberon Map

See tourist information of this village
---
No accommodation has been found in this village ! We propose you offers near by :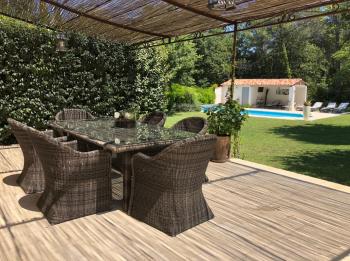 Villa with pool in Provence
Holiday villa - Puy-Sainte-Reparade - Villa saint Canadet - Luberon Provence
from 1.600 € to 1.940 € per week (depend. season)
for 6 person(s)
Check out our Top 20 Holiday rentals, Cottages, Hotels, Inns, Camping
Meyrargues
© Luberonweb
Ville d'environ 3.500 habitants
Historique :
Cité "Mairanicas" au 11ème siècle.
Seigneurie de la maison des Baux du 11ème au 13ème siècle, puis des comtes de Provence auxquels succédèrent au 15ème siècle les Allagonia et au 17ème les Valbelle.
Etablissement d'un marché hebdomadaire et d'une foire annuelle en 1370.
Ravages causés par les guerres de Religion au 16ème siècle, puis par la peste au début 18ème.
Un bac permettant de traverser la Durance est attesté en 1274, il fusionna avec celui de Pertuis au 15ème siècle.
Présentation :
Meyrargues est un village ancien de grand caractère, au riche patrimoine historique, bâti en amphithéâtre au pied de la butte de son château.
Très beau patrimoine historique architectural.
Espace forestier du Ligourès.
Nombreux sentiers de randonnée.
Rive de la Durance.
Gare SNCF.
Proximité du Luberon et du Pays d'Aix-en-Provence.
Situation géographique :
Meyrargues est situé sur la rive sud de la Durance en frontière avec le Parc du Luberon, au Nord, et le Pays d'Aix-en-Provence au Sud. La proximité d'autauroute A51 vous permettra également de visiter, lors de vos vacances, toute la Haute-Provence (de Manosque à Gap !).
Curiosités touristiques :
Restes de l'aqueduc romain (Aix-Traconnade), pont à 3 arches (classé Monument Historique).
Château des Valbelle (classé Monument Historique) sur une butte, d'origine du 12ème siècle, reconstruit au 17ème : tours carrées, terrasse, cheminée monumentale du 16ème, et beau parc. Désormais hôtel.
Château de Vauclaire avec de beaux plafonds peints et une belle décoration intérieure.
Châteaux de Repentance et de Vaumartin.
Beau heurtoir du 15ème siècle, au presbytère.
Eglise Saint-André de 1737, réparée en 1822 où vous trouverez le tableau de Mazzocchi, donné par Napoléon III représentant la vierge et Sainte Catherine de Sienne.
Chapelle Notre-Dame, romane, proche du château.
Chapelle Saint-Sébastien.
Marchés, fêtes, foires et Festivals :
Marché le dimanche.
Foire à la brocante début juin.
Foire agricole et artisanale en juillet.
Fête des traditions provençales fin novembre.
Fête votive le week-end suivant le 15 août.