Merindol Luberon - Holiday rental
Merindol, Vaucluse village, south of the Luberon, by the river Durance
J'inscris ma location sur Luberonweb Subscribe to our RSS feed
Holiday rentals, gites, guest rooms, hotels, campgrounds in Merindol
Tourism information on Merindol
See the Luberon Map

See tourist information of this village
---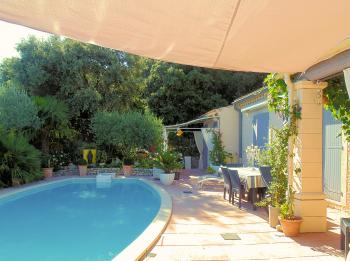 Bed & breakfast in Provence in a villa with pool
Guest room pool - Mérindol - La Cigalière - Luberon Provence
85 € per day (depend. season)
1 room(s)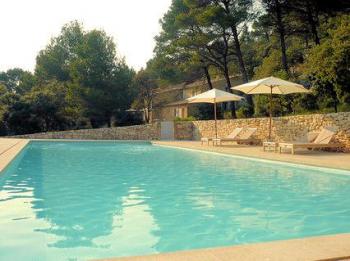 Luxury property for your holidays in Provence
Luxury holiday rental - Merindol - Le Pardigaou - Luberon Provence
from 1.500 € to 4.800 € per week (depend. season)
for 8 person(s)

Holiday cottage with pool for 2 people in Mérindol
Gite pool - Mérindol - Chalet Régalon - Luberon Provence
550 € per week (depend. season)
for 2 person(s)
We propose you also nearby :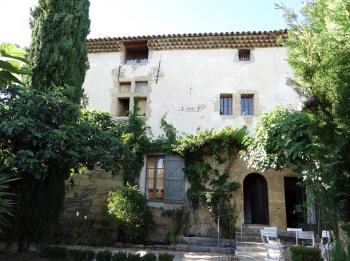 Charming country house renovated in southern Luberon
Luxury Holiday rental - Puget-sur-Durance - La Grande Bastide - Luberon Provence
from 2.220 € to 3.120 € per week (depend. season)
for 14 person(s)
Check out our Top 20 Holiday rentals, Cottages, Hotels, Inns, Camping
Merindol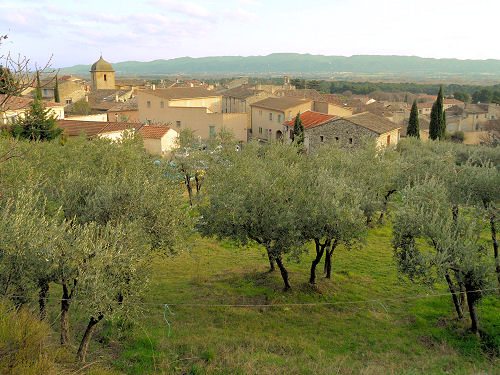 © Luberonweb
Ville d'environ 2.000 habitants
Historique :
Cité "Merindolium" au 13ème siècle.
Fief du vicomte de Cavaillon, puis des évêques de Marseille.
Mérindol est donné comme exemple type des villages-martyrs du Luberon durant les guerres de religion : au 14ème, Raymond de Turenne dévasta le château et le bourg, la région, désertée fin 15ème, fut repeuplée par des Vaudois venant de Mallemort, au 16ème siècle, ceux-ci suivirent naturellement la Réforme et refusèrent d'abjurer leur foi, le bourg fut rasé par le tristement célèbre seigneur d'Oppède en 1545, sur arrêt du Parlement de Provence. Les Vaudois rebâtirent leur village qui devint capitale religieuse de l'Eglise protestante en Provence et point de départ des expéditions huguenotes.
En 1977, trois associations (les associations vaudoises d'Allemagne, de France et d'Italie) décidèrent de créer un chemin du souvenir qui mène au ruines d'un ancien temple protestant. Une pancarte signale que l'inauguration du chemin s'est faite avec des représentants catholiques.
Présentation :
Mérindol est un vieux village du sud Luberon groupé au pied de son ancien château sur une pente légère, entre Luberon et Durance.
Sentiers de randonnée dans le Luberon.
Le chemin du souvenir : en mémoire des Vaudois de Provence morts pour leur foi.
Passage des GR6 et GR97.
Situation géographique :
Mérindol est un village situé dans le Sud Luberon, sur la rive Nord de la Durance, face au village de Mallemort.
Curiosités touristiques :
Sépultures et mobilier de l'âge du Bronze aux Mauffrines.
Habitat néolithique.
Vestiges gallo-romains : thermes romains aux Borrys, substructions de villas, autel aux Nymphes, mosaïques, tombes, canalisations.
Ruines du château féodal et du village abandonné du Vieux Mérindol.
Beffroi-tour de l'Horloge.
Maison Renaissance restaurée, et quelques belles maisons des 17ème et 18ème.
Moulin à huile du 17ème, en activité.
Mémorial Vaudois dominant le village.
Eglise paroissiale Sainte-Anne du 18ème.
Temple protestant de 1808 à clocher-arcade.
Musée :
Musée de la "Muse", histoire des Vaudois dans le Luberon.
Marchés, fêtes, foires et Festivals :
Marché le mercredi.
Fête communale le dimanche suivant le 26 juillet.
Salon des Eco-Énergies, fin mai.
Suggérer un complément d'information ou d'autres photos
Discover the best holiday accommodation in Provence !