La Bastide-des-Jourdans - Holiday rentals Provence
La Bastide-des-Jourdans, a village in southern Luberon, in the Vaucluse (Provence - south France)
J'inscris ma location sur Luberonweb Subscribe to our RSS feed
Holiday rentals, gites, guest rooms, hotels, campgrounds in La-Bastide-des-Jourdans
Tourism information on La-Bastide-des-Jourdans
See the Luberon Map

See tourist information of this village
---

Charming cottage with pool in the Luberon
Charming cottage - La-Bastide-des-Jourdans - Gite du Moulin de Marchand - Luberon Provence
from 230 € to 660 € per week (depend. season)
for 2/3 person(s)

Gite for 5 persons with pool in the Luberon
Charming cottage - La-Bastide-des-Jourdans - Moulin de Marchand-Pigeonnier - Luberon Provence
from 370 € to 995 € per week (depend. season)
for 5 person(s)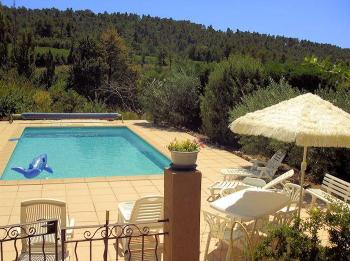 Hire with swimming pool in the southern Luberon
Vacation rental pool - La Bastide des Jourdans - Villa Longues Terres - Luberon Provence
from 1.300 € to 1.500 € per week (depend. season)
for 6 person(s)
We propose you also nearby :

Holiday rental with pool for 5 people in the south Luberon
Holiday villa pool - Grambois - La Gramboisienne - Luberon Provence
from 750 € to 1.300 € per week (depend. season)
for 5 person(s)
Check out our Top 20 Holiday rentals, Cottages, Hotels, Inns, Camping
La-Bastide-des-Jourdans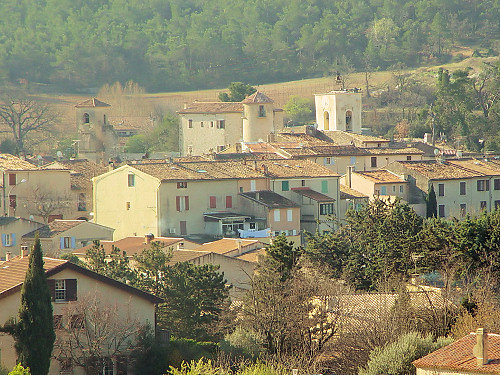 © Luberonweb
Ville d'environ 1.300 habitants
Historique :
Cité "Bastida Jordanorum" au 13ème siècle.
Seigneurie de la famille d'Astouaud, puis des Coriolis qui établirent un monastère de moines cultivateurs à l'emplacement d'une commanderie du Temple.
La Bastide-des-Jourdans est un village fortifié perché à 428 m d'altitude dominé par un château du XIIIème dont il reste quelques vestiges. Fondé au début du 13ème siècle par le Comte de Forcalquier, La Bastide-des-Jourdans (Bastida Jordanorum) doit son nom à ses premiers châtelains, les chevaliers Guillaume et Pierre Jourdan qui y construisirent la première bastide.
Présentation :
La Bastide-des-Jourdans est un superbe village médiéval, anciennement fortifié, de grand caractère, paisible.
Passage du GR9.
Nombreux sentiers de randonnée dans le Luberon.
Situation géographique :
La Bastide-des-Jourdans est situé dans la vallée d'Aigues au sud-est du Luberon, à 10 km au Nord-Est de La Tour-d'Aigues.
Curiosités touristiques :
Une borne milliaire romaine indique la présence d'une voie Romaine.
Ancien château fort du 13ème, profondément remanié au 16ème.
Beffroi du 17ème, au sommet du Serret.
Reste du donjon circulaire du château de Limaye.
Château Notre-Donne 18ème.
Fontaines 18ème et 19ème.
Eglise paroissiale Saint-Pierre, d'origine romane du 12ème, remaniée au 17ème.
Vestiges du monastère du 18ème.
Chapelle romane Notre-Dame-de-Consolation du 16ème, reconstruite au 17ème.
Vestiges des substructions de l'église inachevée Notre-Dame-des-Amandiers 19ème.
Ancienne chapelle Notre-Dame-de-la-Cavalerie de Limaye du début 13ème.
Ancienne chapelle Saint-Marc du 17ème.
Ancienne chapelle rurale Saint-Pierre de Pomerol 11ème/12ème, remaniée 17ème et 19ème.
Oratoires.
Marchés, fêtes, foires et Festivals :
Fête communale le 1er dimanche de septembre.
Vide Grenier le 1 dimanche de juin.
Marché de Noël vers le 15 décembre.
Suggérer un complément d'information ou d'autres photos
Discover the best holiday accommodation in Provence !