Dauphin - Holiday rentals Luberon
Dauphin, beautiful village, full of charm, in north-east of the Luberon (Provence - south France)
J'inscris ma location sur Luberonweb Subscribe to our RSS feed
Holiday rentals, gites, guest rooms, hotels, campgrounds in Dauphin
Tourism information on Dauphin
See the Luberon Map

See tourist information of this village
---
No accommodation could been found
For the moment, there is no rentals available for your search criteria.
If you selected HOLIDAY RENTALS, try GITES, or conversely, there are no real differences between these types of accommodation.
Otherwise, try a more generic search, or an another region of Provence.
You can also post a request on the Forum.
Check out our Top 20 Holiday rentals, Cottages, Hotels, Inns, Camping
Dauphin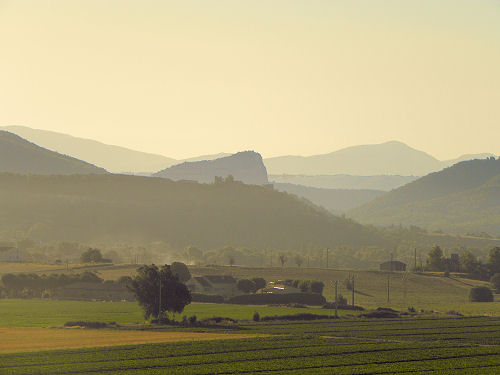 © Luberonweb
Ville d'environ 850 habitants
Historique :
Mentionné "Castrum de Delfino" en 1125.
Le village se regroupa et se fortifia au 14ème à son emplacement actuel.
Terre de la vicomte de Reillanne en 1379, puis au marquisat d'Oraison en 1588.
Le nom de la commune fait référence au dauphin, fils aîné du roi de France.
Présentation :
Dauphin est un superbe village perché du Luberon, typiquement provençal, plein de charme et très bien restauré.
Dauphin détient le label "villages et cités de caractère" délivré par le Comité départemental du tourisme.
Passage de la voie Domitienne.
Superbe panorama de la balustrade du donjon.
Belles promenades sur les berges du Lorgue et de la Laye.
Sentiers de randonnée fléchés.
Parc Naturel Régional du Luberon.
Proximité de l'Observatoire de Provence (Saint-Michel-l'Obervatoire).
Situation géographique :
Dauphin est situé au sud de Forcalquier, au pied du versant Nord du Luberon oriental.
Curiosités touristiques :
Fortifications du 14ème/16ème.
Donjon couronné d'une balustrade, d'où vous pourrez contempler un superbe panorama.
Tours, portail de Pourcheirieu.
Salles des corps de garde.
Ferme fortifiée des Encontres du 15ème/16èmes.
Quelques vestiges du 12ème de l'ancien prieuré.
Ferme des Deux Moulins.
Moulin Arnaud : réemploi de 2 chapiteaux romans.
Moulin Nalin.
Eglise Saint-Martin romano-gothique.
Chapelle Notre-Dame-d'Ubage du 17ème.
Marchés, fêtes, foires et Festivals :
Fête communale le 3ème dimanche de juillet.
Fête patronale le 1er dimanche de mai.
Pèlerinages à la Chapelle Notre-Dame-d'Ubage.