Chateauneuf-de-Gadagne - Holidays rentals Provence
Village of the Vaucluse, near Avignon (Provence)
J'inscris ma location sur Luberonweb Subscribe to our RSS feed
Holiday rentals, gites, guest rooms, hotels, campgrounds in Chateauneuf-de-Gadagne
Tourism information on Chateauneuf-de-Gadagne
See the Provence Map

See tourist information of this village
---
No accommodation has been found in this village ! We propose you offers near by :

Gite in Provence with private pool and garden
Cottage pool - Isle sur la Sorgue - La villa de Mathilde - Luberon Provence
from 650 € to 1.300 € per week (depend. season)
for 3 person(s)
Check out our Top 20 Holiday rentals, Cottages, Hotels, Inns, Camping
Chateauneuf-de-Gadagne charming village in the country of Avignon, peaceful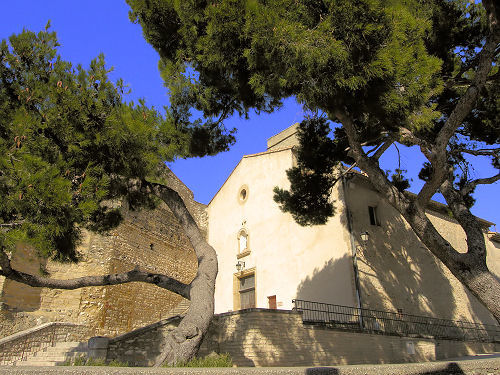 © Luberonweb
Châteauneuf-de-Gadagne is a village near Avignon, in the Vaucluse. Charming village, quiet and peaceful offering stunning views over the valley of the Durance, the Alpilles, the Luberon and the Ventoux
Village d'environ 3.500 habitants
Historique :
Cité "De Castro Novo" pour la première fois en 1202.
Châteauneuf-de-Gadagne fut longtemps nommé "Châteauneuf-de-Giraud-Amic" (du nom des premiers seigneurs).
Seigneurie des Amic puis des Simiane au 14ème siècle et à partir de 1668 des Galléan de Gadagne.
Pendant les guerres de Religion, le village fut dévasté par le baron des Adrets.
Berceau du félibrige, mouvement fondé pour la renaissance de la langue provençale au château de Fontségugne le 21 mai 1854 par Frédéric Mistral et un groupe de poètes (Alphonse Tavan, Joseph Roumanille, Théodore Aubanel, Anselme Mathieu, Paul Giéra et Jean Brunet).
Présentation :
Châteauneuf-de-Gadagne est un joli village bien exposé, accroché en amphithéâtre à flanc de colline, avec une superbe vue sur la vallée de la Durance, le Luberon, les Alpilles, le Ventoux.
Parc du château de La Chapelle.
Proximité d'Avignon.
Centre équestre.
Piscine municipale.
Proximité du Luberon et des Alpilles.
Situation géographique :
Châteauneuf-de-Gadagne est considérée comme la banlieue "chic" d'Avignon (10km environ), située à l'écart des grands axes routiers, au calme, dans un environement boisé, de garrigue et de vignobles (côtes-du-Rhône réputés).
Lieu de vacances idéal pour la visite de la cité des Papes (Avignon) et du Comtat Venaissin.
Curiosités touristiques :
Sépulture gallo-romaine, chemin de Caumont.
Cimetière médiéval (et peut-être antérieur) au plateau de Campbeau.
Vestiges du château du 11ème/12ème siècle, réputé magnifique, démantelé à la Révolution puis utilisé comme carrière de pierres.
Restes défensifs des 13ème et 14ème siècles de deux enceintes successives : portail du Paly, porte de l'Aurore, porte des Bourgades, porte de l'horloge.
Tour de l'horloge du 18ème siècle avec cage en fer forgé.
Place de la Fontaine, ancien lieu de réunion du Parlement médiéval.
Vieilles rues pleines de charme avec des passages sous voûtes.
Maison du félibre Tavan, Grand'Rue.
"Font du Félibre" élevée en 1974 à la gloire des poètes de langue provençale.
Belles fontaines.
Château de Fontségugne de 1860 de style Second Empire italianisant.
Papeterie du Moulin-Neuf, avec des éléments gothico-Renaissance.
Eglise composite de base romane (abside) et gothique.
Ancienne chapelle castrale : belle Trinité en bois, ex-voto.
Chapelle votive Saint-Roch (peste de 1720).
Ancienne chapelle des Pénitents Blancs, rue Saint-Marc.
Vierge à l'Enfant en bois du 17ème, Grand'Rue.
Petite chapelle classique Notre-Dame-de-Blanche-Fleur (aux papeteries du Moulin-Neuf).
Marchés, fêtes et Festivals :
Marché le mercredi.
Marché au raisin tous les jours du 1er août au 1 novembre.
Fête votive de quatre jours, le troisième dimanche de juin.
Festival de la Culture provençale et du Félibrie le dimanche précédant le 14 juillet.