Cavaillon. Holiday rental Luberon
Cavaillon (Provence - South France), small town, the Luberon door
J'inscris ma location sur Luberonweb Subscribe to our RSS feed
Holiday rentals, gites, guest rooms, hotels, campgrounds in Cavaillon
Tourism information on Cavaillon
See the Luberon Map

See tourist information of this village
---
No accommodation has been found in this village ! We propose you offers near by :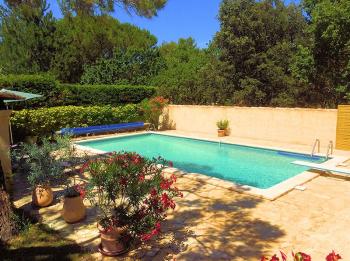 Holiday home for 6 persons in Provence (Luberon)
Holiday rental pool - Les-Taillades - La Michelette - Luberon Provence
from 900 € to 1.200 € per week (depend. season)
for 6 person(s)

Holiday rental with pool in the Luberon
Charming Holiday villa - Robion - Le Pin Penché - Luberon Provence
from 1.500 € to 2.000 € per week (depend. season)
for 8 person(s)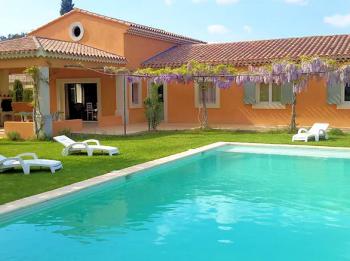 Holiday villa with pool for 8 persons at the foot of the Luberon
Holiday villa pool - Les Taillades - Sous les oliviers - Luberon Provence
from 1.200 € to 2.200 € per week (depend. season)
for 8 person(s)
Check out our Top 20 Holiday rentals, Cottages, Hotels, Inns, Camping
Cavaillon, door of the western Luberon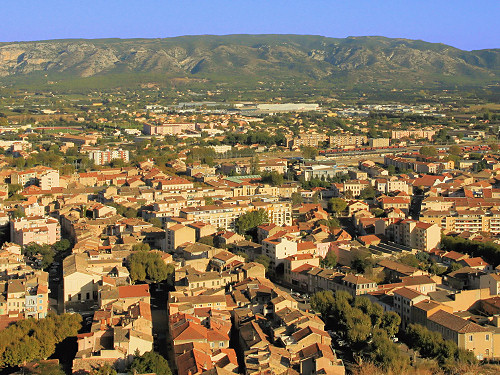 © Luberonweb
Cavaillon is a small town located in the northwest of the Luberon, at the frontier the Alpilles and the country of Avignon
Ville d'environ 27.000 habitants
Historique :
Occupée dès la préhistoire : Cavaillon était déjà importante au début de l'empire romain ("Cabellion"", "Pagus Cavellicus").
Siège épiscopal dès le 4ème.
Cité "Cavallo" au 13ème.
Cavaillon fit partie du royaume d'Arles et du marquisat de Provence.
Seigneurie partagée entre l'évêque et les vicomtes de Cavaillon puis du Saint-Siège.
Ville étape sur la Voie Domitienne.
Présentation :
Cavaillon fait face au Luberon et aux Alpilles au sud-ouest. Cavaillon est célèbre pour sa production de melons (le melon de Cavaillon).
Début de la piste cyclable qui longe le Luberon jusqu'à Forcalquier (environ 100 km).
Piscine municipale.
Hippodrome.
Centre équestre.
Plan d'eau des Vignères.
Nombreuses manisfestations et activités culturelles (Musées, Théâtre - scène nationale).
Facilité d'accès depuis l'Autoroute A7 (axe Avignon - Aix-en-Provence).
Situation géographique :
Cavaillon est une petite ville située dans la vallée de la Durance, au pied de la colline Saint Jacques qui domine la ville de ses falaises (180 m).
Cavaillon, porte Nord-Ouest du Luberon, bénéficie d'une situation géographique privilégiée pour visiter : le Luberon, les Alpilles, les pays d'Avignon et d'Aix-en-Provence.
Curiosités touristiques :
Sites préhistoriques.
Vestiges romains.
Ruines de l'ancienne ville sur le mont Saint-Jacques qui domine Cavaillon.
Hôtel de ville 18ème.
Nombreuses belles maisons et hôtels 18ème.
Ancien hôtel Crillon 11ème remanié 18ème.
Saint-Félix, Saint-Martin, Château-Vert, Le Château (ferme).
Ancienne cathédrale Saint-Véran 12ème.
Ancienne chapelle Saint-Benoît 17ème.
Chapelle du Grand Couvent 17ème.
Chapelle de l'ancien hôpital 18ème : abrite le musée archéologique.
Chapelle Saint-Roch 17ème classique.
Chapelle Sainte-Bernadette.
Chapelle Saint-Jacques dominant la ville sur le mont Saint-Jacques 12ème.
Chapelle Notre-Dame au hameau des Vignères 13ème.
Oratoire Saint-Joseph 17ème route de Gordes.
Ancien ermitage Saint-Jacques 11ème/12ème.
Croix Saint-Jacques 1865 au sommet du mont Saint-Jacques.
Belle synagogue du 15ème, reconstruite au 18ème.
Musées :
Musée judéo-comtadin de la synagogue.
Musée archéologique.
Musée de la Crèche provençale, route des Taillades.
Archives municipales.
Hôtel d'Agar.
Maison Jouve.
Marchés, fêtes, foires et Festivals :
Grand marché forain le lundi
Foire le 1er lundi de mai et de septembre.
Foire d'automne de la saint Véran en novembre.
Fête communale le 1er lundi septembre.
Fête à l'Ascension et à la saint Gilles (début septembre).
Corso le jeudi de l'Ascension.
Fête du Melon, la 2ème semaine de juillet.
Rencontres Cinématographiques, en août.