Aups. Vacation rentals in Provence
Aups, medieval village of Haut-Var, near the Gorges du Verdon
J'inscris ma location sur Luberonweb Subscribe to our RSS feed
Holiday rentals, gites, guest rooms, hotels, campgrounds in Aups
Tourism information on Aups
See the Provence Map

See tourist information of this village
---
No accommodation has been found in this village ! We propose you offers near by :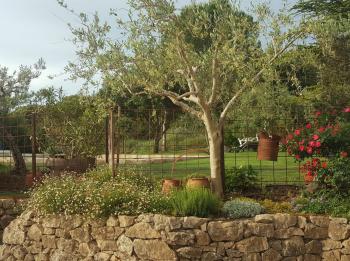 House classified **** 4 stars
Holiday rental pool - Fox-Amphoux - Campagne Fourette - Luberon Provence
from 850 € to 1.500 € per week (depend. season)
for 8 person(s)
L'Oustalet - Salernes (Var - Haut Var)

Cottage with pool in the Haut Var
Holiday house pool - Salernes - L'Oustalet - Luberon Provence
from 750 € to 990 € per week (depend. season)
for 4/6 person(s)
Check out our Top 20 Holiday rentals, Cottages, Hotels, Inns, Camping
Aups, charming medieval village of Haut Var
Village d'environ 2.100 habitants
Historique :
Seigneurie citée "Almis" au 11ème siècle.
Seigneurie des Blacas.
Présentation :
Aups est un village médiéval, bâti en amphithéâtre, couronné de son château féodal et entouré de remparts.
Aups, depuis l'année 2000, est intégré au Parc naturel régional du Verdon.
Riche patrimoine architectural.
Beaux panoramas.
Pays de la Truffe.
Nombreux sentiers de randonnée. Circuit VTT.
Piscine municipale en plein air (chauffée).
Proximité des lacs de Sainte-Croix et d'Esparron.
Situation géographique :
Aups est situé dans le Haut-Var, dans le Nord-Est du Var. La situation géographique d'Aups vous permettra, pendant vos vacances, de visiter, tout aussi bien la côte varoise que les gorges du Verdon, les Alpes du sud, le Pays d'Aix-en-Provence et le Luberon
Curiosités touristiques :
Vestiges gallo-romains à Plerimond, Mousque et Raton.
Céramiques (sigillées) paléochrétienne à Notre-Dame-de-Vaimoissine.
Ruines du château fort du 12ème.
Ensemble de belles maisons 17ème, 18ème et 19ème.
Tours, Campanil du 17ème, Cadrans solaire.
Maison de la "Fabrique" du 18ème.
Moulin à huile 18ème.
Belles fontaines dans le village.
Vieux lavoir.
Imposant château fort de Taurennes du 12ème/14ème.
Château de Cresson, avec parc et chapelle.
Châteaux de Bresc et de Creisson.
Châteaux de Fabrègues et de Locquier.
Collégiale Saint-Pancrace de la fin 15ème (style gothique angevin).
Chapelle néo-gothique du 19ème.
Ancien couvent des Ursulines 1669 avec chapelle (musée).
Chapelle Notre-Dame-de-Lorette.
Chapelle Sainte-Madeleine dans une grotte.
Nombreuses chapelles rurales.
Oratoires.
Musées :
Musée du sculpteur Maria de Faykod : parc-exposition.
Musée Simon-Segal et Ecole de Paris (chapelle des Ursulines).
Visite du moulin à huile en activité.
Marchés, fêtes et Festivals :
Marché les mercredi et samedi.
Marché truffier le jeudi matin de fin novembre à mi-mars.
Foire artisanale et agricole le 1er dimanche d'août.
Journée de la truffe noire le dernier dimanche de janvier.
Journée de l'olive le 1er dimanche de mars.
Fête de la truffe le dernier dimanche de janvier.
Fête de l'olive le 1er dimanche de mars.
Fête patronale de saint Pancrace en mai.
Festival du Haut-Var (musique).