Luberon Provence RSS feed
Luberon Provence RSS feed
Please find below our various RSS feeds. Do not hesitate to register !
---
Leisure and Culture News of the Luberon and Provence !
Exposition Lartigue à l'Isle-sur-la-Sorgue
15/01/2018 15:53 Expositions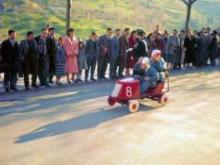 Exposition "Lartigue, la vie en couleurs", présentée à Campredon centre d'art jusqu'au 18 février 2018, dévoile un pan inédit de l'oeuvre du photographe Jacques Henri Lartigue.
https://www.luberonweb.com/tourisme-Luberon-Provence/Isle-sur-la-Sorgue-30
A cette occasion, le centre d'art présente à cette occasion, 127 photographies en couleurs et des documents.
Bien que la couleur représente plus d'...