Luberon Provence RSS feed
Luberon Provence RSS feed
Please find below our various RSS feeds. Do not hesitate to register !
---
Leisure and Culture News of the Luberon and Provence !
Festival des Cinémas d'Afrique à Apt
16/10/2017 12:08 Festivals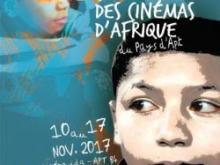 15ème Festival des Cinémas d'Afrique du Pays d'Apt du 10 au 17 novembre 2017 - Apt (84 - vaucluse)
https://www.luberonweb.com/tourisme-Luberon-Provence/Apt-3
Panorama de la production africaine récente.
Fictions, documentaires et courts métrages.
Plus de 30 films de tout le continent
60 projections (publiques et scolaires)
Présence de nombreux réalisateurs, invités, critiques, intervenants.Proj...